Suite de mes reviews LEGO Ninjago 2020 avec mon test de l'autre dragon, le set LEGO 71711 Jay's Cyber Dragon (518 pièces, 49,99€).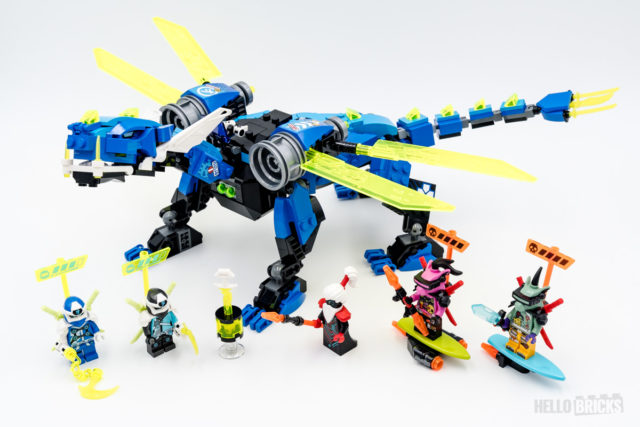 Le cyber dragon de Jay n'a lui non plus pas grand chose à voir avec l'image habituelle des dragons LEGO Ninjago. Si son code couleur principal bleu et noir reste assez classique, les gros réacteurs et les ailes jaune fluo sont là pour rappeler le style très futuriste / jeu vidéo.
Comme pour l'autre set 71713 Empire Dragon, le dragon est bien articulé avec notamment ici une articulation supplémentaire très bien intégrée au milieu du corps, ce qui lui permet de prendre des poses plus dynamiques. A noter deux spring shooter missiles très bien planqués dans le corps.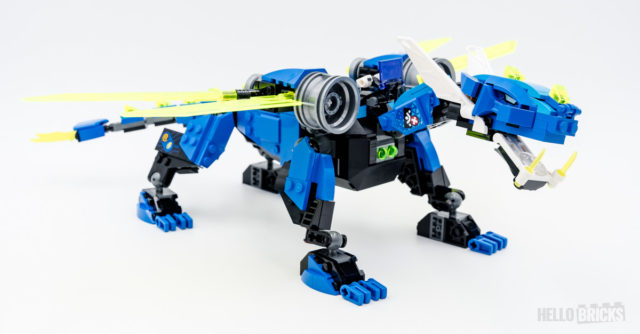 Ici aussi, la tête est brick-built et les yeux sont une brique 2×2 tampographiée de chaque côté. On obtient un dragon de bonne taille, pas grand chose à redire, le cahier des charges est rempli.
Le principal axe d'amélioration pour moi est l'absence d'un vrai cockpit : quitte à être sur un dragon sorti tout droit d'un jeu vidéo, j'aurais apprécié que la figurine soit un peu mieux intégrée dans la bestiole, et pas juste posée sur son dos.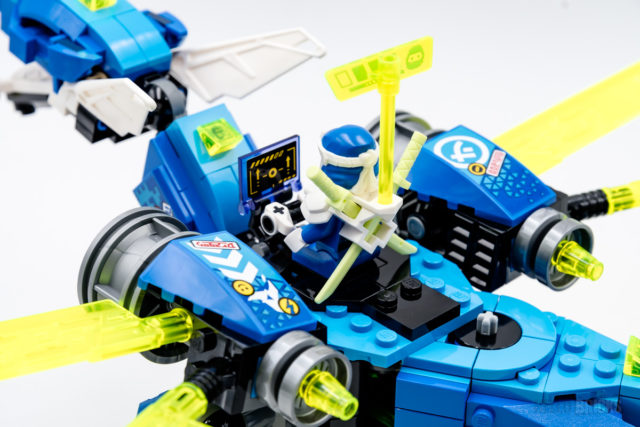 Du côté des figurines, un joli line-up : Digi Jay et Digi Nya, Richie, Hausner et le grand méchant Unagami.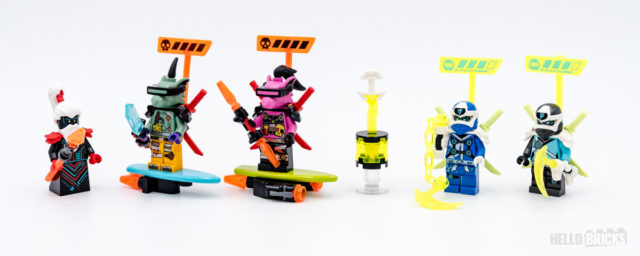 Seule Nya est exclusive à cette boite pour l'instant. Jay est un peu partout déjà, on frôle l'overdose (71708 Gamer's Market, 71709 Jay and Lloyd's Velocity Racers, 71712 Empire Temple of Madness et 71715 Jay Avatar – Arcade Pod).
Du côté des méchants, Richie est dans les sets 71707 Kai's Mech Jet et 71708 Gamer's Market, Hausner dans le set 71709 Jay and Lloyd's Velocity Racers, et Unagami dans les sets 71712 Empire Temple of Madness et 71713 Empire Dragon.
Petite photo pour comparer la taille par rapport au dragon ennemi : le bleu est un peu plus gros, et fait plus massif grâce à son corps plein.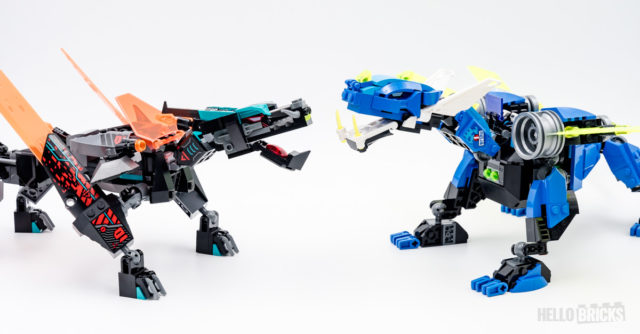 Verdict
Bref, ça fait le job si vous accrochez au style techno futuriste de cette nouvelle gamme. J'apprécie la jouabilité, la bonne articulation et la posabilité de ce dragon, même si esthétiquement je préfère les dragons des thématiques plus classiques.
---

Retrouvez ce set Ninjago LEGO 71711 Jay's Cyber Dragon sur le Shop officiel LEGO. Merci à LEGO pour la mise à disposition du set pour ce test.
Mes reviews LEGO Ninjago 2020 :
REVIEW LEGO Ninjago 71711 Jay's Cyber Dragon