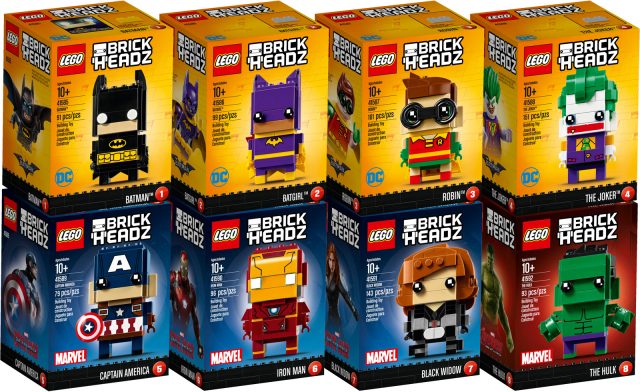 Sans réelle nouvelle de la nouvelle gamme LEGO BrickHeadz depuis le San Diego Comic Con 2016, voici enfin les visuels officiels de cette série de personnages carrés et brick-built tirés des licences Marvel et DC Comics. Au programme, The LEGO Batman Movie, Captain America Civil War, et Avengers Age of Ultron, pour une première vague de huit sets logiquement numérotés de 1 à 8 :
41585 The LEGO Batman Movie – Batman (91 pièces)
41586 The LEGO Batman Movie – Batgirl (99 pièces)
41587 The LEGO Batman Movie – Robin (101 pièces)
41588 The LEGO Batman Movie – The Joker (151 pièces)
41589 Marvel Captain America: Civil War – Captain America (79 pièces)
41590 Marvel Captain America: Civil War – Iron Man (96 pièces)
41591 Marvel Captain America: Civil War – Black Widow (143 pièces)
41592 Marvel Avengers: Age of Ultron – The Hulk (93 pièces)
Quatre autres sets sont également référencés (41593 à 41596), sans que les visuels soient aujourd'hui connus :  tout ce qu'on sait pour l'instant, c'est que les BrickHeadz 41595 et 41596 seront respectivement La Belle et la Bête, mais pas encore d'information si ils seront basés sur le dessin animé culte de Disney ou sur le film live sur le point de sortir avec Emma Watson (vu l'actualité, je pencherais bien pour cette dernière option).
Pour rappel, quatre packs exclusifs de deux personnages avaient été commercialisés lors du SDCC 2016 : 41490 Superman & Wonder Woman, 41491 Batman & The Joker, 41492 Captain America & Iron Man et 41493 Doctor Strange & Black Panther. Pas encore d'information si ces BrickHeadz seront un jour commercialisés de façon classique à l'unité, même si il avait été annoncé à l'époque qu'ils seraient bien disponibles un jour. Peut-être pour une prochaine vague ?
Côté timing, ces LEGO BrickHeadz devraient arriver dans un premier temps en avant-première LEGO VIP le 15 février 2017, avant une disponibilité générale à partir du 1er mars, si on en croit le Store Calendar US. Ces dates devraient être les mêmes en Europe.
Qu'en pensez-vous ? Prêts à vous lancer dans une nouvelle collection de personnages qui prendra beaucoup plus de place que des minifigs classiques ?
Seb, si tu passes dans le coin, ton avis m'intéresse ! 😉
(via Brickset)
LEGO BrickHeadz 2017 : les visuels officiels