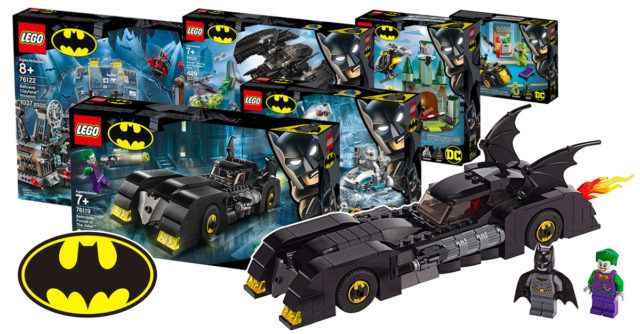 LEGO vient de dévoiler aujourd'hui six nouveaux sets pour fêter les 80 ans de Batman : quatre sets classiques et deux boites 4+ (ex-Juniors). Ils seront commercialisés à partir du 1er août prochain.
76118 LEGO Batman Mr. Freeze Batcycle Battle (200 pièces, 19,99$)
76119 LEGO Batman Batmobile: Pursuit of The Joker (342 pièces, 29,99$)
76120 LEGO Batman Batwing and The Riddler Heist (489 pièces, 49,99$)
76122 LEGO Batman Batcave Clayface Invasion (1,038 pièces, 99,99$)
76137 LEGO Batman: Batman vs. The Riddler Robbery (59 pièces, 9,99$)
76138 LEGO Batman: Batman and The Joker Escape (171 pièces, 39,99$)
Parmi ces nouveautés LEGO Batman 2019, mention spéciale pour la Batmobile du set 76119 qui semble sortir tout droit du film de Tim Burton avec Michael Keaton et qui devrait cartonner ! Les autres sets me font moins rêver, mais le trio de véhicules du set 76120 devrait offrir une très belle jouabilité.
Et vous noterez aussi l'arrivée du personnage de Shazam, en plus des habituels personnages DC Comics.
Nouveautés LEGO Batman 2019 : six sets pour fêter les 80 ans de Batman