LEGO a enfin dévoilé la Batmobile télécommandée qui arrivera cet été dans le set LEGO 76112 DC Comics Super Heroes App-Controlled Batmobile :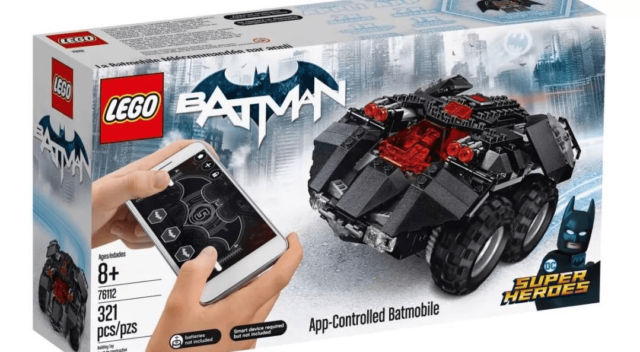 Au menu : 321 pièces, une minifig de Batman et un prix public annoncé à 159,99$ pour piloter la Batmobile à distance grâce à deux moteurs embarqués (les nouveaux Power Functions 2.0) et votre smartphone ou votre tablette sous iOS ou Android.
Rendez-vous le 1er août prochain sur le Shop officiel LEGO et en LEGO Store.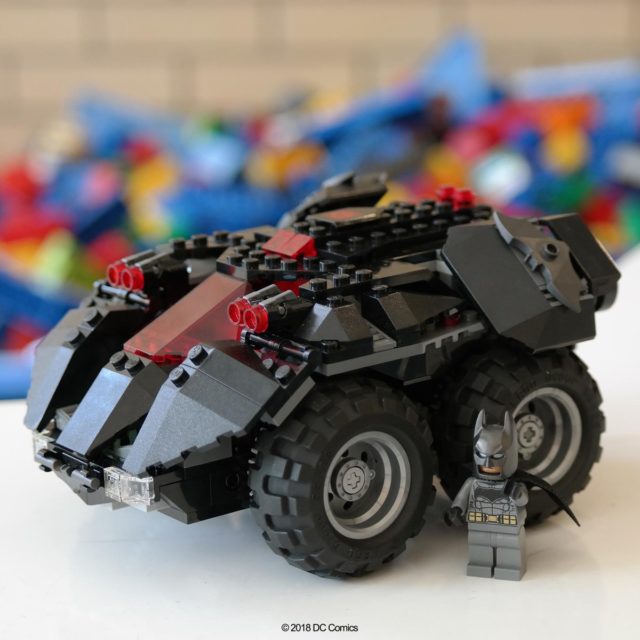 Possibilité également de personnaliser l'interface de contrôle. Et LEGO annonce pour plus tard cette année l'arrivée de fonctions additionnelles programmables (sons et lumières, pilotage, etc…).
La description officielle :
LEGO® Powered Up Platform Empowers More Builders
to Bring Their LEGO Play to Life
-LEGO® Batman™ App-Controlled Batmobile™ and More New Sets Join Growing Universe of LEGO Connected Toys That Blend Physical Play and Digital Creativity-

ENFIELD, Conn. (May 17, 2018) – Today, the LEGO Group announced the Powered Up Platform, a suite of new elements and apps, which introduce new ways to bring to LEGO® sets to life seamlessly across its System of Play. Revealed today as part of the Powered Up platform, the LEGO Batman™ App-Controlled Batmobile, inspired by DC's Caped Crusader, is a buildable LEGO Batmobile that is fully controllable by smart device. It will also incorporate light coding and programming later in 2018.

Leveraging the power elements and coding language developed for last year's award-winning build and code toolkit, LEGO BOOST, and other LEGO connected toys, Powered Up enabled sets give kids the ability to modify and personalize their experiences by adding dynamic motion control and in some instances simple coding. Powered Up LEGO sets will range from simply powered to remote controlled to smart device connected, creating endless customized play possibilities. Some building sets will ship with Powered Up capabilities included in the box, while others will be Powered Up-enabled, giving kids the option to add power features to their creations if they are interested.

"For 20 years, we have been creating new ways for children to combine technology and LEGO building, starting with the introduction of LEGO MINDSTORMS®, a robotics toolkit that pioneered the idea of a 'smart toy," said Michael McNally, senior director brand relations for the LEGO Group. "With Powered Up, we've established a flexible connected platform to enable innovative new play experiences that merge digital and physical play in natural ways that will delight and inspire the builders of today and tomorrow – while still focusing on the core physical play proposition of our System of Play – the LEGO brick."
The LEGO Batman App-Controlled Batmobile, created for children 8 years of age and older, combines LEGO building and remote-control car play. It is the first codeable and programmable LEGO Batmobile that is fully controllable via smart device. Users can steer the Batmobile using one of two preset remote-control interfaces or personalize their experience through a customizable interface. With the interface unlocked, users move sliders, buttons and other elements to customize the remote control to their liking. Through a coding canvas that will be introduced later this year, users can code and re-code speed, direction, sound and duration to program various movements and stunts and create their own unique driving experiences.

Additional Powered Up sets launching in 2018 include the LEGO City Passenger Train and LEGO City Cargo Train, which add simple remote-control functionality to classic LEGO building. The LEGO DUPLO® Steam Train and LEGO DUPLO Cargo Train introduce kids as young as 2 years old to cause and effect play, a pre-cursor to coding, with low-tech brick accessories that utilize sensors and color-coded train track elements.

The Powered Up offerings join a growing portfolio of LEGO connected toys that bridge physical and digital play. The LEGO NINJAGO® Stormbringer dragon and LEGO City Arctic Scout Truck allow children to leverage elements from the LEGO BOOST build and code toolkit to add behavior and movement. Builders can also add LEGO BOOST elements to the new LEGO Creator Expert Roller Coaster to motorize the chain lift and set a roller coaster in motion with realistic sound effects.

The Powered Up Platform launches July 1. The LEGO Batman App-Controlled Batmobile will launch August 1 with the suggested retail price of $159.99 and includes 321 pieces, two motors and a battery hub. The Powered Up App works on phones and tablets running iOS 8.0 and up or Android 5.0 and up.
LEGO 76112 App-Controlled Batmobile : la Batmobile télécommandée