LEGO a prévu de commercialiser à partir du 1er juin deux sets pour accompagner la sortie du film Ant-Man and The Wasp, second volet "solo" (enfin plus vraiment du coup) des aventures d'Ant-Man interprétées par Paul Rudd (sortie prévue au cinéma le 18 juillet prochain).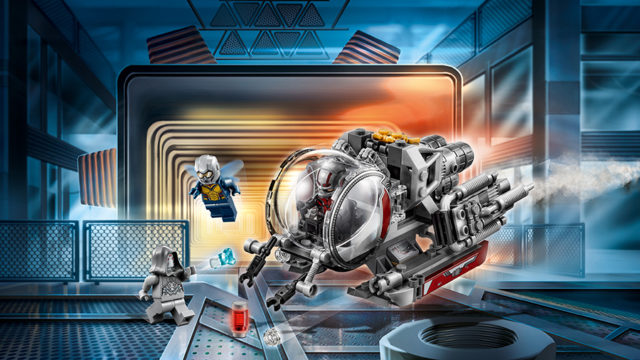 La première boîte a été dévoilée aujourd'hui : le set LEGO 76109 Quantum Realm Explorers (200 pièces, 19,99$) permettra d'obtenir les trois personnages principaux du film (Ant-Man, The Wasp et la méchante Ghost) et un " véhicule quantique". J'espère que le second set permettra d'obtenir Michael Douglas (Henry Pym) et Michael Peña (Luis).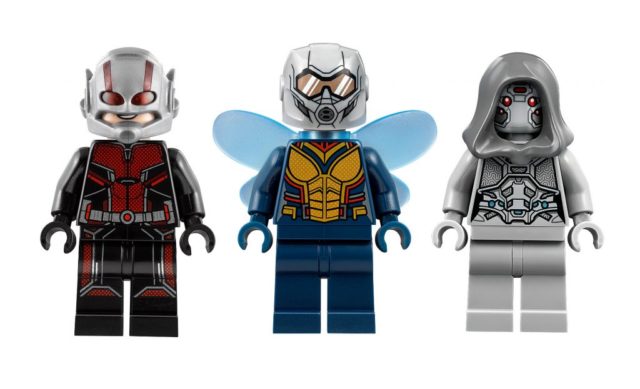 Le costume de la minifig de Ant-Man a eu droit à un petit lifting comparé à celle du set 76039 Ant-Man Final Battle de 2015, seule autre boite où elle a été commercialisée. Ant-Man était bien revenu dans le set Captain America: Civil War 76051 Super Hero Airport Battle en 2016, mais c'était alors au format Giant Man.
Fly into action against Ghost with Ant-Man's Quantum Vehicle and The Wasp with this LEGO Marvel Super Heroes 76109 Quantum Realm Explorers set. The Quantum Vehicle features an opening, bug-eye shaped minifigure cockpit, adjustable insect arms, stud shooters and adjustable engines for launch, hover and flight modes. This set includes 3 minifigures and a gold-colored trophy element.

Includes 3 LEGO Marvel Super Heroes minifigures: Ant-Man, The Wasp and Ghost.
Quantum Vehicle features a bug-eye-shaped, opening minifigure cockpit, 2 adjustable insect arms, 2 stud shooters, 2 adjustable engines and 3 mufflers.
Adjust the engines for launch, flight and hover modes.
Weapons include Ant-Man's Shrink Gun and Ghost's 2 Power Blasts.
Accessory elements include a gold-colored trophy and the Wasp's wings.
Ghost minifigure is new for June 2018.
Recreate thrilling scenes from the Marvel Super Heroes Ant-Man and the Wasp movie.
Quantum Vehicle measures over 2" (7cm) high, 5" (15cm) long and 3" (9cm) wide.
Ant-Man and The Wasp : les visuels officiels du set LEGO 76109 Quantum Realm Explorers