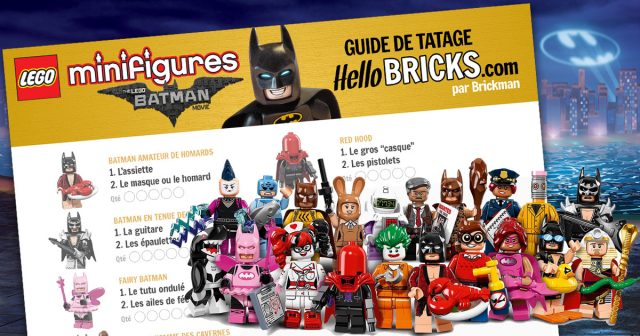 Il est prêt ! La série de minifigs à collectionner The LEGO Batman Movie (référence LEGO 71017) étant désormais disponible en LEGO Store et sur le Shop@Home (prix officiel 3,99€/sachet), je vous propose donc notre célèbre guide de tâtage, pour vous aider à identifier sans les ouvrir les 20 personnages différents.
> TELECHARGER LE GUIDE DE TÂTAGE (au format PDF)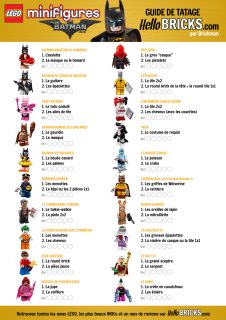 N'hésitez pas à l'imprimer pour noter au fur et à mesure les personnages que vous identifiez. Cette série est assez facile à tâter dans l'ensemble, avec des accessoires ou pièces souvent très spécifiques pour chaque personnage. La plupart des minifigs peuvent même être identifiées avec un seul accessoire, mais n'hésitez surtout pas à essayer d'en identifier un autre lorsque vous avez un doute. Et méfiez vous de certains accessoires présents chez plusieurs personnages : les menottes, le masque de Batman, la tile 2×2, la round brick 1×1… (identifiés avec un "(!)" dans le guide)
Bon à savoir, même si j'en ai déjà parlé plusieurs fois : une boite de 60 sachets contient 3 séries complètes (et donc aucun doublon). C'est donc une bonne façon d'être sûr d'obtenir facilement plusieurs séries complètes.
Bon tripotage de sachet ! C'est à mon goût une série globalement de très haut niveau : mes quatre minifigs préférées sont (dans le désordre) Batman en vacances, le Commissaire Gordon, l'infirmière Harley Quinn et Batman amateur de homards. Et vous ?
Retrouvez la gamme The LEGO Batman Movie sur le Shop@Home et sur Amazon.


Retrouvez toutes nos reviews The LEGO Batman Movie :
Minifigs à collectionner The LEGO Batman Movie (71017) : le guide de tâtage