LEGO ayant sorti une gamme The Simpsons (ce qui était absolument inimaginable il y a quelques années !), pourquoi n'aurions-nous pas droit maintenant à une gamme LEGO Futurama adaptée de l'autre série culte de Matt Groening ? Ou même simplement un projet LEGO Ideas avec le délirant Planet Express et Leela, Fry Bender et les autres principaux personnages de la série animée au format minifig ?
Cet UCS Planet Express de près d'un mètre de long par Nicola Stocchi est superbe (il a même droit à sa petite plaque de présentation !)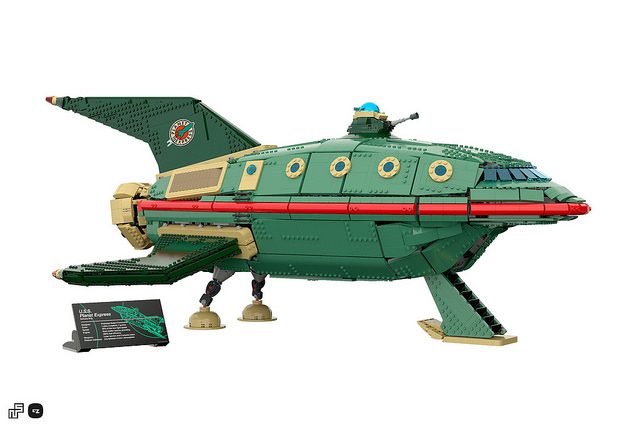 Et même si avec ses 5112 pièces il dépasse largement le nouveau nombre maximum de pièces utilisables dans un projet LEGO Ideas depuis la récente mise à jour des règles, LEGO avait de toute façon déjà refusé le projet car il ne correspondrait pas à leurs standards et pourrait "être en lien avec des sujets de politique, religion, drogues, violence, etc"… Dans ce cas, j'ai du mal à comprendre pourquoi ils ont lancé une gamme LEGO The Simpsons…
Bref, à défaut d'avoir un jour une vraie gamme LEGO Futurama, profitons quand même de cet énorme vaisseau de livraison (je vous rappelle le slogan de la société : "nos équipes sont remplaçables, pas vos colis" !) qui même si il n'a été modélisé que sur LEGO Digital Designer (LDD), a bénéficié d'un soin tout particulier puisque Nicola a fait en sorte de lui donner une structure interne à même de résister au poids du vaisseau.
LEGO Futurama UCS Planet Express