L'une des réactions lors de l'annonce du gros set LEGO Star Wars 75222 Betrayal at Cloud City a tourné autour de son statut (ou non) d'Ultimate Collector Series : pas de logo UCS sur la boite, et dans la description un Master Builder Series jamais vu avant.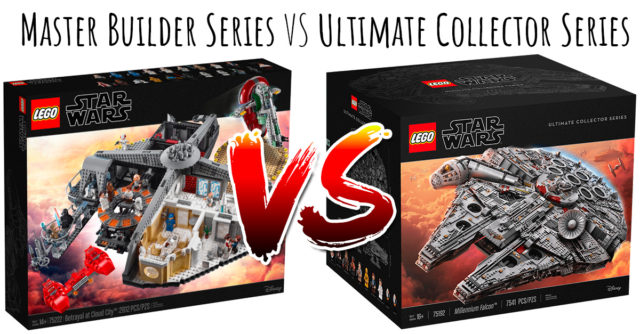 Pour ceux qui essayaient de comprendre la différence entre les deux concepts (et pour les collectionneurs complétistes qui stressaient de ne pas savoir si ils seraient "obligés" de l'acheter pour ne pas avoir de trou dans leur collection UCS), voici enfin l'explication officielle de LEGO sur le sujet :
The Master Builder Series models are large playsets and beside being complex builds they are characterized by having many play features and functions, interior details as well as a range of minifigures.

Ultimate Collectors series will remain highly detailed display models providing complex builds with a focus on authenticity and both Ultimate Collectors Series and Master Builder Series will continue as a way to highlight the unique characteristic of each style of model.
Voilà, comme certains l'avaient deviné, cette nouvelle appellation Master Builder Series (disons MBS pour faire simple) concernera donc désormais les gros playsets chers, détaillés et plein de minifigs et de fonctionnalités pour le jeu : aujourd'hui, les sets 10236 Ewok Village et 75098 Assault on Hoth feraient probablement partie de cette collection. Pareil pour la Death Star 75159.
La collection LEGO Star Wars Ultimate Collector Series ne disparaît donc pas pour autant, et les futurs successeurs des gros vaisseaux très détaillés comme le 75192 Millennium Falcon ou le 75060 Slave I seront donc toujours des UCS.
Bref, gros set cher LEGO Star Wars qui ressemble à une grosse maquette de vaisseau = UCS. Gros playset cher LEGO Star Wars avec un paquet de figurines = MBS. Et vous, est-ce que ça influence vraiment votre décision d'acheter un set de savoir qu'il est ou non dans la liste des UCS ?
LEGO Star Wars Master Builder Series VS Ultimate Collector Series : les explications de LEGO