Certains ont peut-être déjà vu passer l'offre dans le Store Calendar américain, LEGO a prévu une opération sur la première quinzaine d'août autour du sujet Plants made from plants dont j'ai récemment parlé dans mon compte-rendu des Fan Media Days : à partir de cette année, les plantes en plastique ABS sont progressivement remplacées par des éléments "durables" à base de biopolyéthylène, fabriqués à partir de canne à sucre.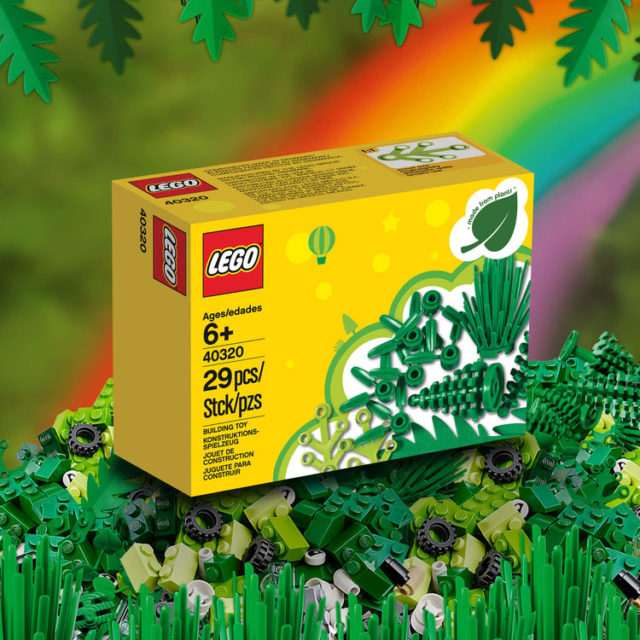 LEGO avait imposé un embargo jusqu'au premier août prochain, mais le secret n'a plus lieu d'être puisque encore une fois le Store Calendar US est à l'origine de la fuite du sujet, et toute l'opération de communication tombe à plat. C'est quand même dingue qu'ils n'apprennent pas davantage de leurs erreurs depuis le temps…
La mauvaise nouvelle si vous vouliez absolument cette petite boite LEGO 40320 Plants from plants : elle ne sera pas offerte en France, mais seulement dans quatre pays : Allemagne et Royaume Uni (du 1er au 17 août 2018, à partir de 35€/35£), et Etats-Unis et Canada (du 1er au 15 août, à partir de 35$). Aucune réponse claire de LEGO sur la raison de ce choix idiot, vu le côté universel du sujet.
The new plant-based LEGO elements will begin appearing in LEGO boxes throughout 2018.

The botanical LEGO elements are available for the first time in brilliant lime green colour, as well as the classic LEGO green. The elements are compatible with the first ever LEGO bricks made 60 years ago and are an example of the LEGO Group's continued commitment to innovation while staying true to the quality, play experience and durability that is at the heart of the LEGO system.  

The plastic used to make the elements is polyethylene, a soft, durable and flexible plastic made from sustainably sourced sugarcane, in accordance with guidance from the Bioplastic Feedstock Alliance (BFA) and third party certified global standards. The new elements are technically identical to existing LEGO botanical elements and have been tested to ensure the sustainably sourced plant-based plastic meets the high standards for quality and safety that the LEGO Group has, and consumers expect from LEGO products. 
Sinon, pour avoir pu comparer ces nouvelles plantes avec les anciennes : aucune différence n'est perceptible, seul un test chimique permet a priori de pouvoir les distinguer, puisque LEGO ne change pas les références des pièces, seulement l'origine du plastique.
LEGO 40320 Plants from plants : offert en août, mais pas en France