Cartoon Network a annoncé officiellement avec Warner Bros. le lancement d'une nouvelle série animée LEGO qui remplira le vide laissé par l'arrêt des Mixels : LEGO Unikitty. Si vous êtes fans du petit chat licorne ultra expressif apparu pour la première fois dans The LEGO Movie et que vous vous êtes amusés à collectionner les 10 versions existantes (en comptant les deux versions exclusives SDCC), cela vous intéressera peut-être de savoir que ce dessin animé présentera les aventures d'Unikitty avec son frère Puppycorn et son garde du corps Hawkodile, dans un château où vit également Dr. Fox. Ce pitch vous vend du rêve ? A moi aussi !…
Pas encore d'information sur les éventuels liens concrets avec LEGO, au delà du sujet en lui même. LEGO commercialisera-t-il des produits dérivés en parallèle, comme ce qui était fait avec la série animée Mixels ? Affaire à suivre, mais j'ai un peu de mal à imaginer ce que cela pourrait être pour l'instant. Et il est toujours possible que rien ne soit prévu.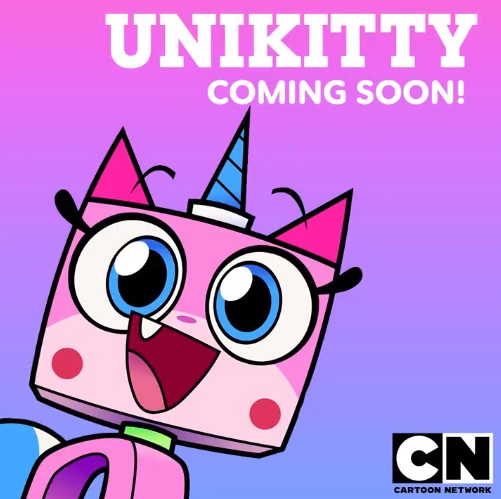 As ruler of the kingdom, Unikitty has busy days full of royal responsibilities. Unikitty is most interested in making sure everyone is happy and ridding the kingdom of negativity, but don't misunderstand her optimism – she is one kitty not to be crossed. While she may be full of boundless energy and creativity, Unikitty is a force to be reckoned with if anyone gets in the way of spreading her positive vibes, especially if anyone makes her little brother and best friend, Puppycorn, sad. Also living in the castle are Dr. Fox, the resident scientist, and Unikitty's trusty bodyguard, Hawkodile. Through it all, Unikitty and her friends make sure that every day is the happiest and most creative ever.
LEGO Unikitty : l'annonce officielle de la nouvelle série animée Cartoon Network