Fin du suspense pour les projets de la seconde phase de review LEGO Ideas 2016 (ceux à avoir atteint les 10000 votes entre début mai et début septembre 2016) : le prochain projet qui deviendra un set officiel LEGO Ideas est… Women of NASA par 20tauri (avec une commercialisation annoncée pour début 2018) ! Et on ne peut pas vraiment dire que ce soit une énorme surprise…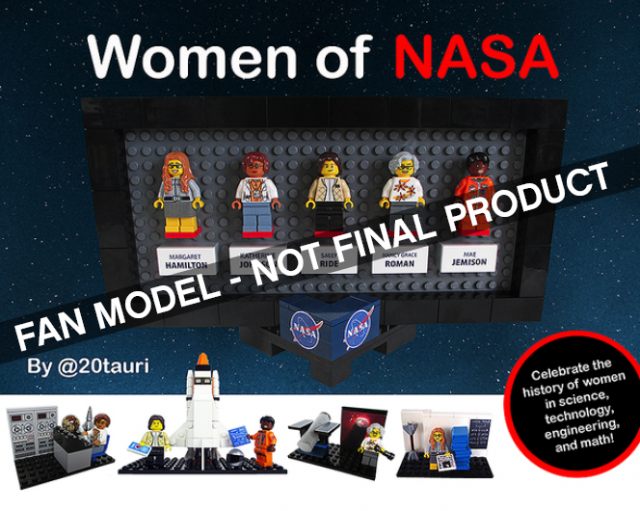 Et le projet Voltron – Defender of the Universe reste lui pour l'instant encore envisagé, il n'a pas encore été définitivement éliminé. Réponse dans quelques mois.

Pour rappel, il y avait 12 projets dans cette seconde phase de review 2016 : Voltron, Spaceballs, la maison de la Famille Addams,  the Merchant's House, le Large Hadron Collider, LEGO Observatory Mountain View, Modular Construction Site, Women of NASA, le Star Wars UCS X34 Landspeeder, la Lamborghini Veneno Roadster, Lovelace & Babbage, et Plum Creek (la Petite Maison dans la Prairie).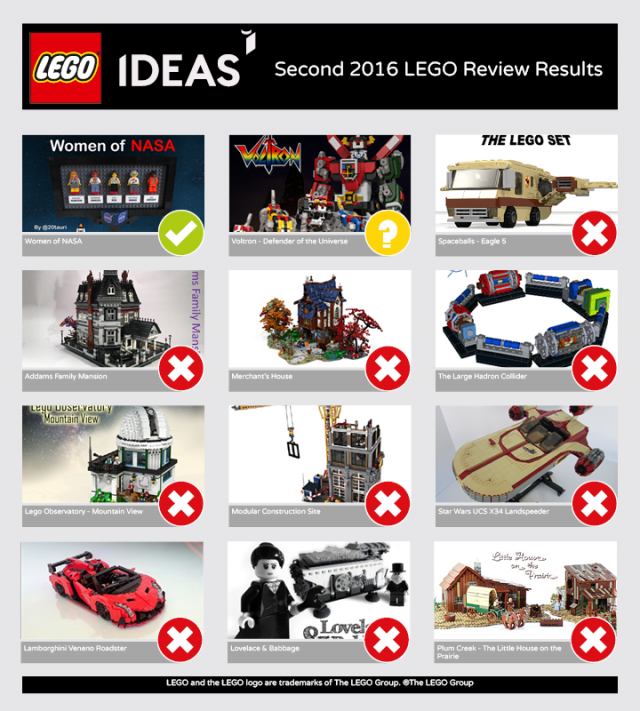 Lorsque je m'étais amusé à faire des pronostics, le quatuor de tête qui me semblait avoir le plus de chances de passer était : Women of NASA, Voltron, Lamborghini Veneno Roadste et Spaceball. Pas si mal comme prono…
Rendez-vous cet été (probablement fin juin / début juillet) pour connaître le ou les heureux élus de la troisième phase de review 2016 qui vient de se terminer (les projets à avoir atteint les 10000 votes entre début septembre 2016 et début janvier 2017), avec à nouveau 12 projets.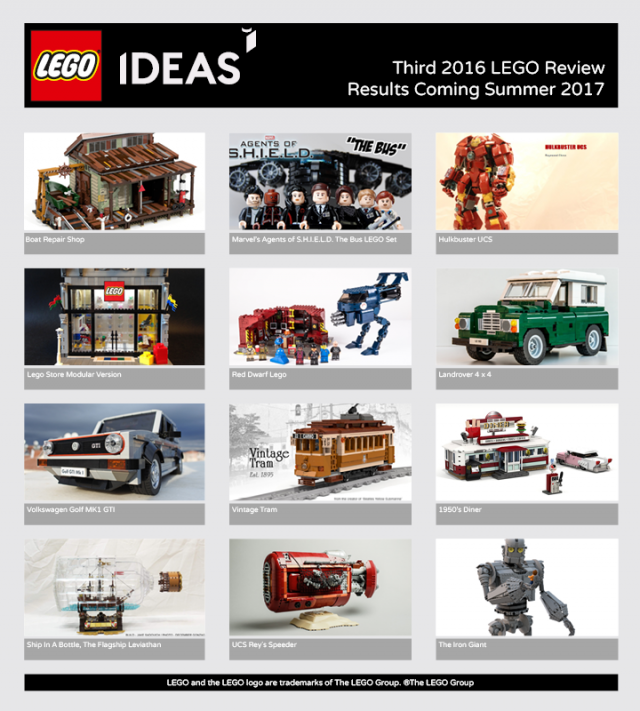 Plus d'infos sur le blog LEGO Ideas
LEGO Ideas : le prochain set officiel sera le projet Women of NASA