Une enseigne néerlandaise (SinQel) a mis en ligne les fiches d'un grand nombre de nouveautés LEGO du second semestre, ce qui nous permet de connaître les noms des différents sets, en attendant de peut-être en découvrir les visuels lors des différentes Toy Fairs qui approchent.
Les noms sont traduits du néerlandais vers l'anglais (merci Google), et seront donc probablement légèrement différents des intitulés définitifs des sets. Les prix seront peut-être également différents de quelques euros par rapport aux prix actuellement affichés, mais tout cela nous permet déjà d'essayer de nous faire une première idée du contenu et de la taille des boîtes !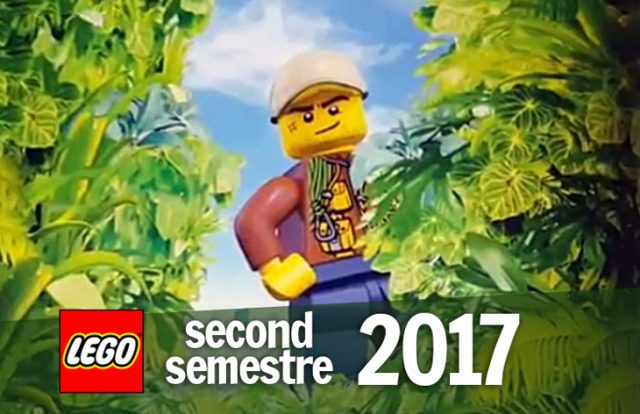 City
Trois éléments notables du côté des nouveautés LEGO City en 2017 : d'abord, comme déjà évoqué, l'arrivée d'un thème Jungle Explorers après les thèmes Arctic Explorers en 2015 et Volcano Explorers en 2016. Ensuite, le retour d'un thème Gardes-côtes après 2008 et 2013.
Et surtout un set 60153 Fun at the Beach City People Pack : aura-t-on l'équivalent "vacances à la plage" du pack de minifigs 60134 Fun in the Park de l'année dernière ?
60153 Fun at the Beach – City People pack (44,99€)
60154 Bus Station (44,99€)
60156 Jungle Buggy (5,99€)
60157 Jungle Starter Pack (9,99€)
60158 Jungle Cargo Helicopter (19,99€)
60159 Jungle Mission with Half-Track (29,99€)
60160 Jungle Mobile Laboratory (49,99€)
60161 Jungle Research Location (99,99€)
60163 Coast Guard Starter Pack (9,99€)
60164 Seaplane Rescue (19,99€)
60165 4×4 Rescue Vehicle (29,99€)
60166 Heavy Rescue Helicopter (49,99€)
60167 Coast Guard HQ (99,99€)
60169 Freight Terminal (74,99€)
Creator
30166 Space Shuttle Explorer (34,99€)
31067 Holidays at LEGO Pool (24,99€)
31068 Modern House (39,99€)
30169 Family Villa (64,99€)
30170 Turbo Track Racer (49,99€)
Elves
41186 Azari & the Escape from the Goblins (19,99€)
41187 Rosalyn's Healing Shelter (49,99€)
41188 Escape from the Goblin King's Fortress (79,99€)
Friends
Les amateurs de Winter Village pour Noël vont probablement surveiller de près la gamme Friends puisqu'un thème Sports d'hivers est visiblement en approche… Reste à voir les couleurs utilisées par LEGO !
41315 Heartlake Surf Shop (19,99€)
41316 Andrea's Speedboat Transport (29,99€)
41317 Sunshine Catamaran (74,99€)
41318 Heartlake Hospital (99,99€)
41321 Winter Sports SUV (17,99€)
41322 Winter Sports Ski Rink (29,99€)
41323 Winter Sports Ski Chalet (44,99€)
41324 Winter Sports Ski Lift (59,99€)
Nexo Knights
Un nouveau gros château en approche, et surtout (malheureusement, vu l'intérêt limité de la chose) la suite des Combo Powers dont nous vous parlions hier…
70353 The Heligoyle (34,99€)
70354 Axl's Rumble Maker (44,99€)
70355 Aaron's Rock Climber (64,99€)
70356 The Stone Colossus of Ultimate Destruction (74,99€)
70357 Knighton Castle (139,99€)
70361 Macy's Bot Drop Dragon (17,99€)
70373 NEXO Combo Powers Wave 2 (3,99€)
Star Wars
Un peu de tout : de l'Episode III avec le come-back de la transformation de Vador, du Clone Wars, du Freemaker Adventures, et de l'Episode VII avec le Rathtar (gros challenge à reproduire) et le Quad Jumper vu grosso modo 3.4 secondes à l'écran avant son explosion quasi immédiate…
Pas de Rogue One à première vue, et il faudra visiblement se tourner vers les Buildable Figures pour l'Original Trilogy : le set 75532 Scout Trooper & Speeder Bike à 59,99€ est intrigant, puisque l'intitulé et le prix tendent vers un Speeder Bike à l'échelle du personnage, c'est à dire assez imposant. Curieux de voir le résultat !
75166 First Order Transport Speeder Battle Pack (17,99€)
75167 Bounty Hunter Speeder Bike Battle Pack (17,99€)
75178 Jakku Quad Jumper (69,99€)
75180 Rathtar Escape (89,99€)
75182 Republic Fighter Tank (34,99€)
75183 Darth Vader Transformation (34,99€)
75185 Tracker I (Freemaker Adventures) (79,99€)
75186 The Arrowhead (Freemaker Adventures) (99,99€)
75531 Stormtrooper Commander (29,99€)
75532 Scout Trooper & Speeder Bike (59,99€)
Super Heroes
Trois sets tirés du film Les Gardiens de la Galaxie Vol. 2, dont un au titre encore inconnu (une nouvelle édition du Milano ?) arriveront dès le mois de mars d'après le catalogue français (page ci-dessous). Les autres sets aux titres inconnus devraient être basés sur les films Spider-Man Homecoming, Thor: Ragnarok et Wonder-Woman.
76079 Guardians of the Galaxy – Ayesha's Revenge (29,99€)
76080 Guardians of the Galaxy – Ravager Attack (39,99€)
76081 Guardians of the Galaxy (54,99€)
76082 Super Heroes (29,99€)
76083 Super Heroes (44,99€)
76084 Super Heroes (54,99€)
76088 Super Heroes (69,99€)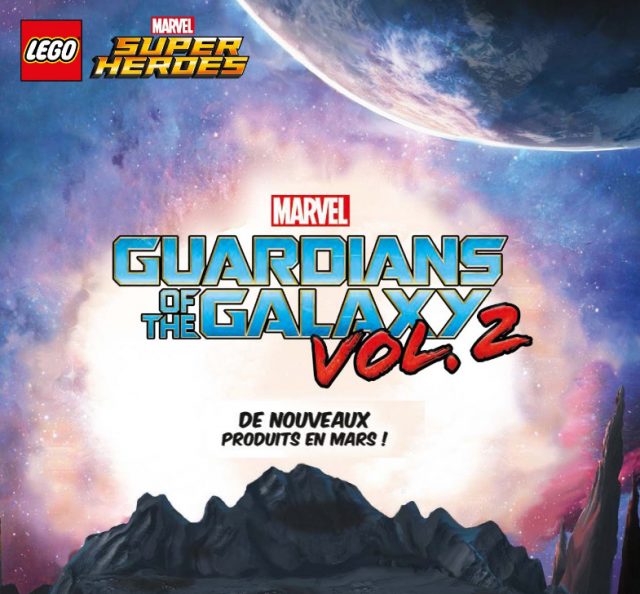 Nouveautés LEGO du second semestre 2017 : noms et prix indicatifs