Etonnamment, LEGO n'a pas prévu d'annonce officielle pour le nouveau gros set LEGO DC Batman 76240 Batmobile Tumbler (2049 pièces, 229,99€), il a directement fait son apparition sur la boutique en ligne officielle LEGO, tout comme le petit Tumbler LEGO DC Batman 76239 Batmobile Tumbler Scarecrow Showdown (422 pièces, 39,99€).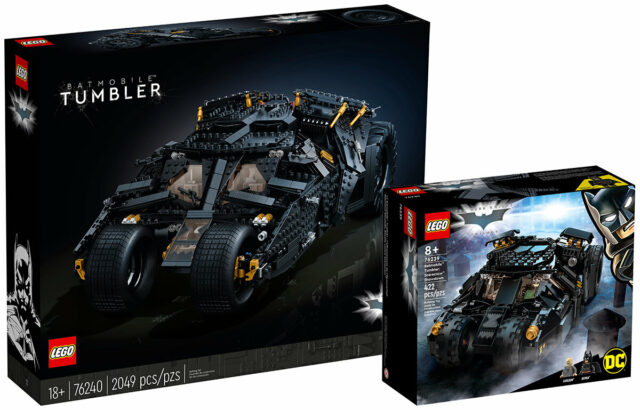 On obtient donc confirmation des tarifs officiels et des dates de sorties : 1er octobre 2021 pour le petit Tumbler à 39,99€, et 1er novembre pour la grosse version UCS à 229,99€, remake du modèle 76023 The Tumbler de 2014. Le petit ne sera donc pas offert pour l'achat du grand chez LEGO (contrairement au set 40433 1989 Batmobile Limited Edition qui était offert avec la Batmobile 1989 UCS), ils sont commercialisés séparément.
Nous pouvons aussi découvrir sur les pages du Shop LEGO l'intégralité des visuels officiels HD. De quoi voir de plus près ces deux versions de la Batmobile version Nolan, vue dans Batman Begins et The Dark Knight, et les minifigs qui les accompagnent.
LEGO DC Comics 76239 & 76240 Batmobile Tumbler : les deux sets sont en ligne sur le Shop LEGO