Coup d'œil aujourd'hui sur les minifigs LEGO Ninjago 2021 du premier semestre, avec la thématique The Island (saison 14).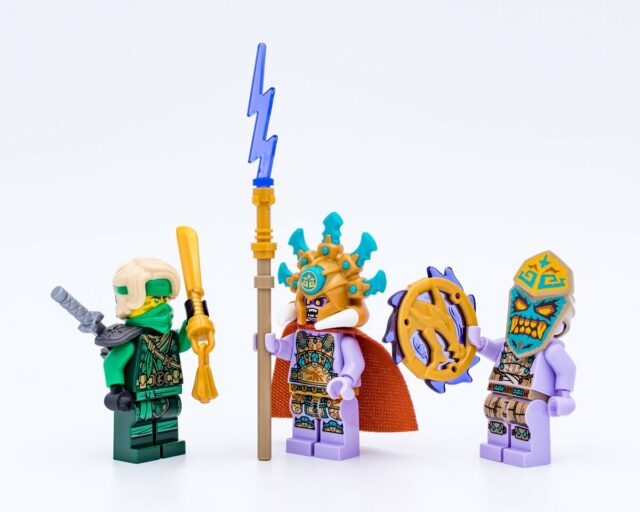 Encore une fois, LEGO s'est bien appliqué sur les méchants, avec une brochette d'indigènes Lavender qui bénéficient de jolis accessoires, avec un superbe couvre-chef bi-injecté pour Chief Mammatus et un joli masque pour le Thunder Keeper.
Le torse et les jambes sont communs aux trois sous-fifres, mais le chef bénéficie de tampographies spécifiques. Je regrette presque la couleur mauve de ces méchants, j'aurais adoré avoir des figurines jaunes plus classiques qu'il aurait été plus facile de réutiliser dans d'autres thèmes (par exemple pour un revival des Islanders de la gamme LEGO Pirates !).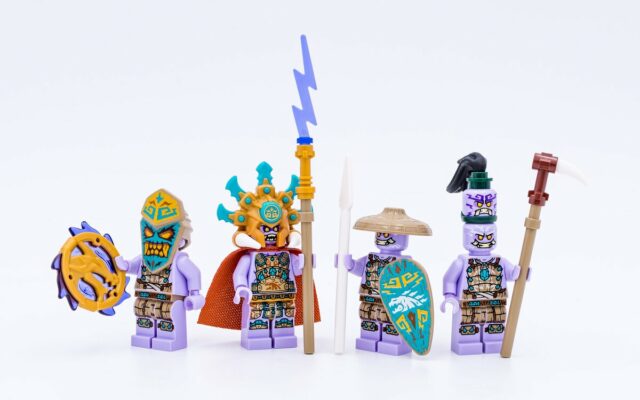 Comme d'habitude, qui dit nouvelle saison dit nouvelles tenues pour les ninjas, avec un design bien soigné et de nouvelles coiffures pour Lloyd, Jay, Kai et Cole, avec un bandeau coloré intégré. Cette collection n'est pas ma préférée parmi toutes les tenues sorties depuis 10 ans, mais c'est propre et cohérent.

Evidemment, LEGO a réparti les minifigs dans un peu toutes les boites. La bonne nouvelle, si vous collectionnez les personnages, c'est que vous n'êtes pas obligé d'acheter la plus grosse boite (71748 Catamaran Sea Battle, 74,99€).
En achetant les trois plus petites boites, vous aurez tous les personnages, avec simplement Lloyd et l'un des méchants en double : 71745 Lloyd's Jungle Chopper Bike (19,99€), 71746 Jungle Dragon (39,99€) et 71747 The Keepers' Village (49,99€).
Quelques photos bonus au passage avec le dragon du set 71746 Jungle Dragon qui a une très bonne tête et est assez rigolo :
Review LEGO Ninjago 2021 The Island : les minifigs