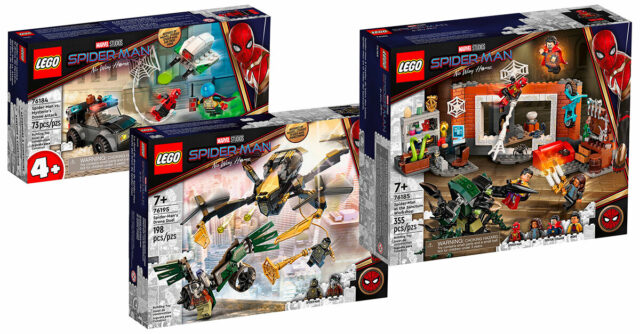 LEGO a aussi mis en ligne aujourd'hui les trois sets Spider-Man: No Way Home prévus pour le 1er octobre 2021, ce qui permet de découvrir les visuels officiels :
Le film Spider-Man: No Way Home est prévu pour le 15 décembre 2021 au cinéma, et son intrigue reste pour l'instant assez mystérieuse mais elle devrait tourner autour du multiverse, avec aussi Doctor Strange au programme, ce que confirme la boite 76185 Spider-Man at the Sanctum Workshop qui est la seule directement basée sur le film.
Les deux autres boites montrent des petites pastilles qui précisent que, malgré la présence du logo No Way Home, elles « s'inspirent » des événements des deux premiers films Spider-Man: Homecoming et Spider-Man: Far From Home. Traduit autrement : « on a repris le méchant de chaque film et on a brodé un set autour ».
On notera la superbe cape rigide de Doctor Strange dans le set 76185 Spider-Man at the Sanctum Workshop, LEGO s'inspire clairement de ce que les fabricants de minifigs custom font depuis quelques années et c'est une excellente nouvelle. Et les différentes minifigs de Spider-Man semblent très réussies aussi !
Nouveautés LEGO Spider-Man No Way Home : les sets sont en ligne sur le Shop