Les nouveautés LEGO 2021 du second semestre sont maintenant disponibles sur le Shop officiel, avec plus de 100 nouveaux sets au programme pour ce 1er juin. Je vous ai préparé un gros récap pour y voir plus clair.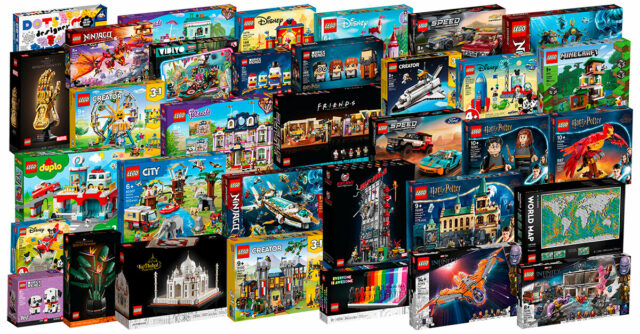 Parmi les principales nouveautés, il y a évidemment les nouvelles gammes Marvel Infinity Saga et son superbe Benatar, Harry Potter 20e anniversaire et ses figs dorées, Speed Champions ou encore Mickey & Friends. Les nouveaux animaux de la savane dans la gamme City, la nouvelle saison sous-marine Ninjago, beaucoup de Friends et un joli château dans la gamme Creator 3-en-1. Et les figs délirantes Vidiyo.
Du côté des sets 18+, on notera les fleurs 10289 Bird of Paradise, le nouveau set LEGO Architecture 21056 Taj Mahal, la carte du monde 31203 World Map ou encore le très coloré 40516 Everyone is Awesome. Ainsi que le gant de Thanos 76191 Infinity Gauntlet pour les fans de pièces dorées.
Les boîtes 10292 The FRIENDS Apartments et 76178 Daily Bugle sont maintenant disponibles pour tous, les avant-premières VIP sont terminées.
Côté cadeaux, il faut toujours se contenter malheureusement du cube porte-photo LEGO Dots 30557 Photo Holder Cube, offert dès 40€ d'achat dans les gammes Dots, VIDIYO et/ou Friends. Et du mug offert pour l'achat du set LEGO Ideas 21319 Central Perk. Pas la grosse fête.
Retrouvez toute la liste des nouveautés ci-dessous :
---
LEGO Creator 3-en-1 & Creator Expert
---
LEGO Marvel

---
LEGO Harry Potter

---
LEGO Architecture, LEGO Art & LEGO Classic
---
LEGO Speed Champions

---
LEGO Disney & Mickey and Friends
---
LEGO City

---
LEGO Ninjago

---
LEGO Minecraft

---
LEGO Vidiyo

---
LEGO BrickHeadz

---
LEGO Friends

---
LEGO Duplo

---
LEGO Dots

Bon shopping !
Gros récap : les nouveautés LEGO de juin 2021 sont disponibles, plus de 100 nouveaux sets !