LEGO présente aujourd'hui un set un peu particulier : le très coloré LEGO 40516 Everyone is Awesome (346 pièces, 34,99€).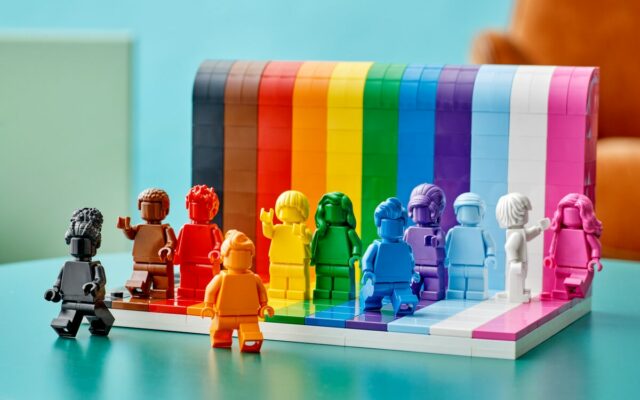 Avec 11 figurines installées sur un socle assorti, cette nouvelle boite surfe sur la mode des minifigs monochromes et célèbre en même temps la diversité en s'inspirant du drapeau arc-en-ciel aujourd'hui surtout connu pour son utilisation par la communauté LGBTQIA+.
Set designer Matthew Ashton, Vice President, Design said: "I wanted to create a model that symbolises inclusivity and celebrates everyone, no matter how they identify or who they love.

"Everyone is unique, and with a little more love, acceptance and understanding in the world, we can all feel more free to be our true AWESOME selves!  This model shows that we care, and that we truly believe 'Everyone is awesome'!"

Matthew said that the set was also a celebration of the LGBTQIA+ community within the LEGO Group and amongst the brand's adult fans.
Sortie le 1er juin 2021, pour coller avec le démarrage du pride month ou mois des fiertés. Bon à savoir : ce set n'est pas une édition limitée mais s'inscrit normalement dans le catalogue de LEGO et aura donc une durée de vie « normale », il ne disparaitra pas au bout de quelques semaines. On s'en reparle rapidement dans ma review.
► Retrouvez ce set LEGO 40516 Everyone is Awesome sur le Shop officiel LEGO.
LEGO 40516 Everyone is Awesome : l'annonce officielle