Coup d'œil rapide sur la petite boîte LEGO Marvel 76172 Spider-Man and Sandman showdown (9,99€), un petit set 4+ dont le quad ultra basique à base de métapièces est prévu pour être monté en moins d'une minute et s'adresse aux plus jeunes constructeurs qui passent de l'univers DUPLO aux briques LEGO classiques.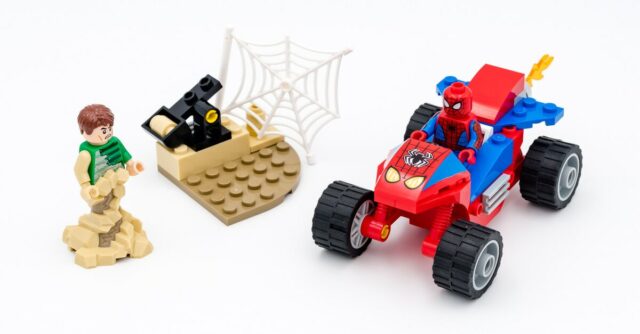 La photo ci-dessous se suffit à elle-même. Pas foufou, même pour du Juniors. Le principal point notable de ce set… c'est finalement l'arrivée des pins Technic sans friction en jaune, alors que depuis 1977 ils n'ont été disponibles qu'en Light Grey puis Light Bluish Grey. Il y en a huit dans cette boite.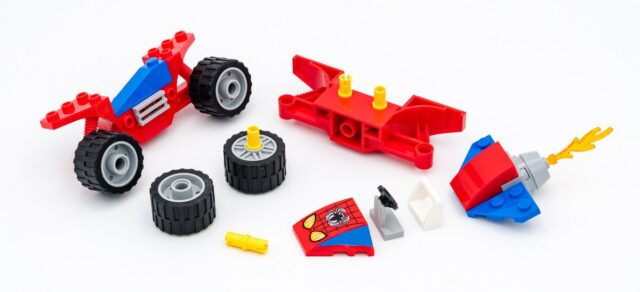 Du côté des minifigs, Spider-Man est la nouvelle version avec bras tampographiés, présente aussi dans les deux autres boites 76173 Spider-Man & Ghost Rider vs Carnage et 76174 Spider-Man's Monster Truck vs Mysterio.
La nouvelle figurine de Sandman qui exploite très bien la swirling base déjà vue sur la figurine de 2019 du set 76114 Spider-Man's Spider Crawler. Même approche pour le torse à moitié ensablé que la minifig de 2015 du set 76037 Rhino and Sandman Super Villain Team-up, mais le design a été modernisé. On retrouve toujours malheureusement le même problème de tampographie des teintes claires sur fond coloré, le beige du torse tirant sur le verdâtre.
Dommage de ne pas avoir essayé de proposer un méchant inédit ou moins présent chez LEGO, cette fournée Spider-Man 2021 se contente finalement de recycler les personnages 2019-2020 en les mettant simplement plus ou moins à jour pour les rendre inédits. Au passage, je trouve toujours un peu dommage pour ce type de personnage que LEGO ne glisse pas également une paire de jambes classiques pour pouvoir remplacer le tourbillon de sable, surtout qu'une simple pièce tan suffirait. Ça n'est pas ça qui les ruinerait.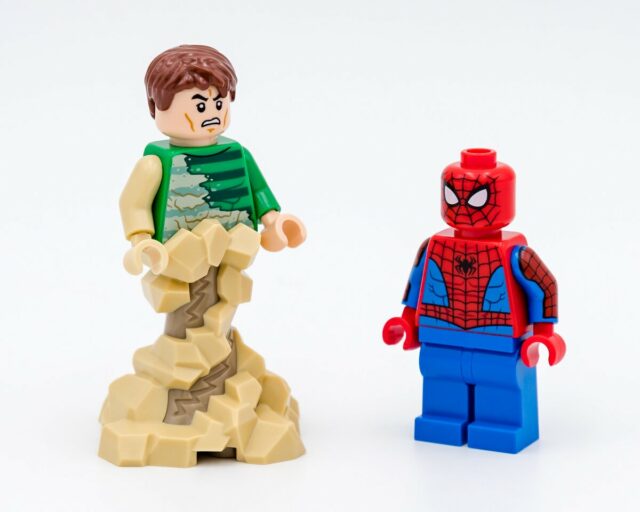 ---
Retrouvez ce set LEGO Marvel Super Heroes 76172 Spider-Man and Sandman showdown sur le Shop officiel LEGO. Merci à LEGO pour la mise à disposition du set pour ce test.
Retrouvez également mes autres reviews LEGO Spider-Man 2021 :
REVIEW LEGO 76172 Spider-Man and Sandman showdown