Comme chaque année, LEGO prépare pour 2021 de nombreux polybags pour un peu toutes les gammes, et nous avons une première vague de visuels officiels pour découvrir les références ci-dessous. Certains seront offerts sur le Shop LEGO, d'autres ailleurs, et certains seront tout simplement disponibles à la vente dans certaines enseignes.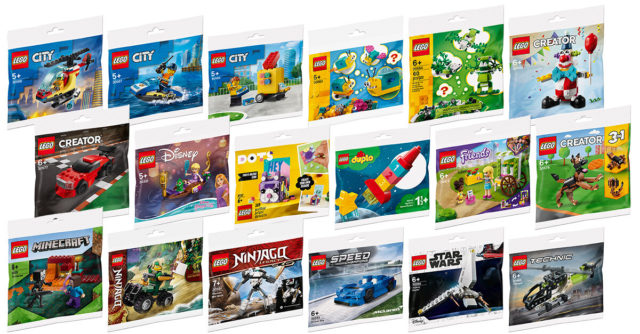 LEGO 30566 City Fire Helicopter
LEGO 30567 City Police Jet Ski
LEGO 30569 City Stand (Pop-Up Store)
LEGO 30563 Classic Build a super powered snail
LEGO 30564 Classic Build your own monster or vehicle
LEGO 30565 Creator Birthday Clown
LEGO 30577 Creator Mega Muscle Car
LEGO 30578 Creator German Shepherd (3in1)
LEGO 30391 Disney Princess Rapunzel's boat
LEGO 30557 Dots Photo Cube Bunny
LEGO 30332 Duplo My first space rocket
LEGO 30413 Friends Flower Cart
LEGO 30331 Minecraft The Nether Duel
LEGO 30539 Ninjago Lloyd's Quad
LEGO 30591 Ninjago Legacy Mini Titan Mech (2in1)
LEGO 30343 Speed ​​Champions McLaren Elva
LEGO 30388 Star Wars Imperial Shuttle
LEGO 30465 Technic helicopter
Il y a également trois références déjà connues mais dont les visuels ne sont pas encore sortis : LEGO 30387 Minions Bob with Robot Arms, LEGO 40464 xtra Chinatown et LEGO 40465 xtra Food.
(via Promobricks)
Polybags LEGO 2021 : premiers visuels officiels