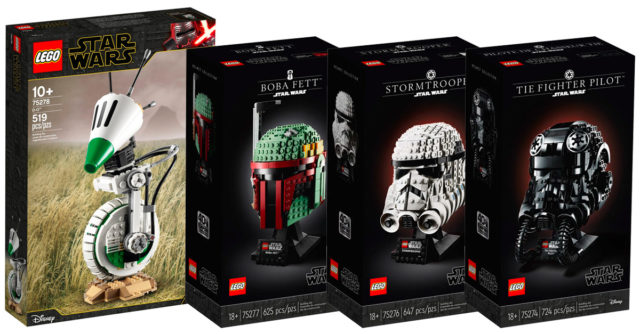 Quatre nouveaux sets LEGO Star Wars sont maintenant disponibles sur la boutique en ligne officielle LEGO : la nouvelle collection de mini casques à exposer, et D-O, le petit droïde de l'épisode IX The Rise of Skywalker.
Si vous êtes impatients, vous pouvez craquer dès maintenant sur le Shop LEGO. Sinon, vous pouvez attendre le 1er mai et l'opération May the 4th pour obtenir un cadeau (un mini set exclusif 40407 Death Star II Battle, dont nous n'avons pas encore de visuel). J'ai l'impression que les casques sont très attendus, je me demande si cela n'aurait pas été une meilleure idée de les sortir le 1er mai en même temps que le nouvel UCS LEGO 75275 A-Wing Starfighter, histoire d'être sûr qu'ils soient encore en stock à ce moment là…
Et si vous voulez voir les casques de plus près, retrouvez ma review du 75274 TIE Fighter Pilot Helmet ici et celle du 75276 Stormtrooper Helmet à cette adresse.
Sur le Shop LEGO : les nouveautés LEGO Star Wars sont disponibles