C'est reparti pour une nouvelle opération de points VIP doublés, du 23 au 31 mars 2019 sur le Shop LEGO et en LEGO Store.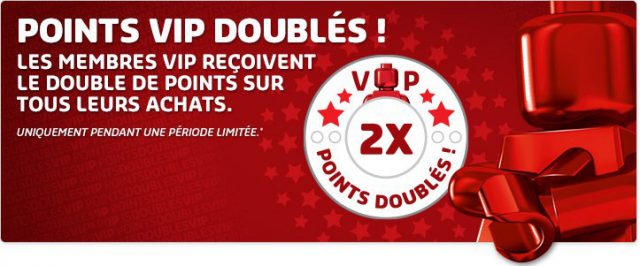 Vous connaissez le principe : les opérations VIPx2, c'est l'équivalent de 10% de remise à valoir sur un prochain achat au lieu de 5% en temps normal. Inscription gratuite au programme VIP à cette adresse.
Même si les nouveautés d'avril ne sont pas encore disponibles, c'est une bonne opportunité pour les sets exclusifs comme la nouvelle voiture LEGO Creator Expert 10265 Ford Mustang GT 1967, le modular LEGO 10264 Corner Garage ou encore le gros set The LEGO Movie 70840 Welcome to Apocalypseburg
Pour en profiter, rendez-vous à cette adresse.
Chez LEGO : points VIP doublés jusqu'au 31 mars