Voici enfin le premier trailer du prochain événement ciné LEGO : The LEGO Movie 2. Et du peu qu'on en voit, c'est plus intéressant que ce à quoi je m'attendais : les héros du premier volet sont de retour, LEGO a repris la recette du premier volet et ça promet potentiellement une brochette de sets potentiels intéressants (il est encore un peu tôt pour faire la liste, mais j'en ai déjà vu certains commencer). Espérons que cette suite sera au niveau !
Pour ceux qui préfèrent la bande-annonce en VF, rendez-vous à cette adresse.
Le film se déroule cinq ans après la fin du premier volet, dans un monde plutôt apocalyptique suite à l'attaque d'envahisseurs extraterrestres DUPLO qui détruisent tout plus vite que ce que nos héros sont capables de rebâtir. Et Emmet et compagnie (Batman est toujours là lui aussi) vont donc partir découvrir la galaxie pour rétablir la paix et nous offrir un happy ending (j'imagine !).
The LEGO Movie 2: The Second Part reunites the heroes of Bricksburg in an all new action-packed adventure to save their beloved city.
It's been five years since everything was awesome and the citizens are facing a huge new threat: LEGO DUPLO®invaders from outer space, wrecking everything faster than they can rebuild.
The battle to defeat them and restore harmony to the LEGO universe will take Emmet, Lucy, Batman and their friends to faraway, unexplored worlds, including a strange galaxy where everything is a musical.
It will test their courage, creativity and Master Building skills, and reveal just how special they really are.
Et au passage, la nouvelle affiche met en avant la (méchante ?) minidoll, Sweet Mayhem, avec les héros du premier volet dans le reflet :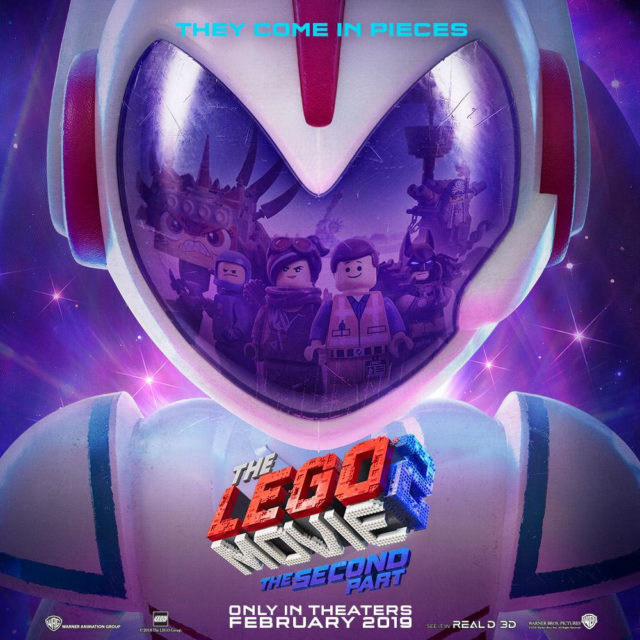 Bon, à la vue de ces éléments, j'ai déjà mon idée de ce que le scénario devrait être. Le teasing ne fait de toute façon que commencer !
The LEGO Movie 2 : le premier trailer !