Petite brève pour signaler une première victoire de LEGO dans sa lutte contre les contrefaçons : en Chine, le tribunal de Shantou a confirmé que les produits « Friends » commercialisés par BELA, reprenant à l'identique les designs et packagings de LEGO, constituaient bien une violation de copyright.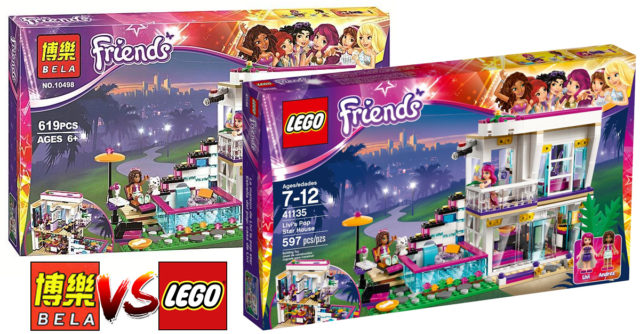 En soi, même si la décision ne concernait que deux fabricants et des copies de sets LEGO Friends, ces petites décisions sont des étapes importantes car elles reconnaissent la légitimité de LEGO par rapport à ces actions. Mais ce n'est qu'un début, et le chemin est probablement encore très long avant que ces victoires juridiques ne se transforment en actions concrètes avec des impacts l'ensemble du marché de la contrefaçon et ses principaux acteurs.
The case was filed against two Chinese companies, which had been manufacturing and selling products that were almost identical to LEGO®products. The decisions come into effect in November 2017.

The court decided that the two Chinese companies must stop copying the packaging and logos of LEGO products in the future, as this constitutes copyright infringement. The court also decided that the LEGO Group enjoys protection under Chinese anti-unfair competition laws for the distinctive and unique appearance of certain decorative aspects of its packaging across particular product lines (in this case, LEGO Friends), which serves the purpose of making consumers immediately recognize and associate the products with the LEGO Group.
Le communiqué de presse complet est disponible à cette adresse.
LEGO contre les contrefaçons : une première victoire juridique