Voici enfin les premiers visuels officiels d'une partie des nouveautés LEGO Star Wars 2018, qui sont à mon goût un cran au dessus de celles sorties en septembre dernier à l'occasion du Force Friday II.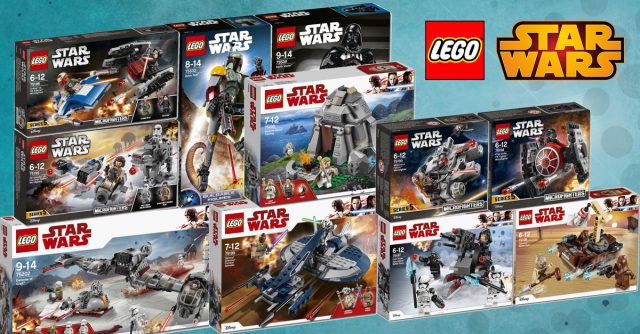 A noter que LEGO inaugure un nouveau format pour ses Microfighters, avec deux packs intégrants chacun deux microfighters. A part ça, deux Battle packs (dont un qui fera le bonheur de ceux qui veulent faire un diorama Tatooine), deux Buildable Figures dont une réédition de Vador avec cette fois-ci la possibilité d'enlever son casque, et quelques sets The Last Jedi.
75193 Millennium Falcon (Microfighters)
75194 First Order Tie Fighter (Microfighters)
75195 Ski Speeder vs. First Order Walker (Microfighters)
75196 A-Wing vs. Tie Silencer (Microfighters)
75197 First Order Specialists Battle Pack
75198 Tatooine Battle Pack
75199 General Grievous' Combat Speeder
75200 Ahch-To Island Training
75202 Defense of Crait
75533 Boba Fett (Buildable Figure)
75534 Darth Vader (Buildable Figure)
Avec enfin le "vieux" Luke, dans un set qui inclut aussi le Porg présent dans la boite 75192 UCS Millennium Falcon. Voila qui devrait en faire baisser les prix déments sur Bricklink (aujourd'hui une vingtaine d'euros pièce juste pour le dôme tampographié !). Et le retour de Grievious et de Mace Windu dans un set qui devrait connaître un joli succès aussi grâce à ces deux minifigs.
Nouveautés LEGO Star Wars 2018 : les visuels officiels