Initiative intéressante de la part de LEGO qui cherche à trouver de nouvelles idées de cadeaux promotionnels qui plairaient aux AFOLs (ils précisent en effet bien que cette réflexion cible les adultes). Et qui propose aux RLUG et RLFM membres du LEGO Ambassador Network de sonder leurs communautés pour remonter une sélection des meilleures idées.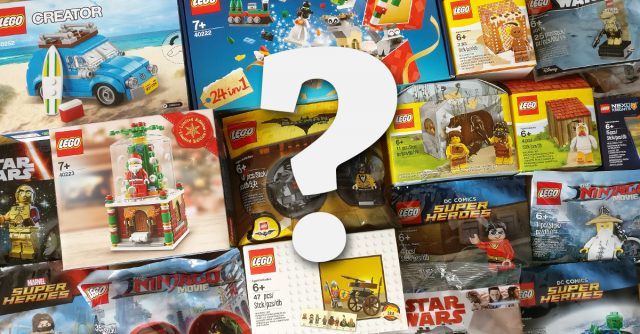 On s'intéresse donc ici aux fameux « GWP » en anglais pour « Gift With Purchase », autrement dit les petits sets ou polybags qui sont régulièrement offerts sur le Shop@Home ou en LEGO Store à partir d'un certain montant d'achat ou pour tout achat d'un produit d'une gamme donnée. Cela va donc du polybag avec une minifig inédite aux mini-sets vintage comme celui avec le chevalier offert l'été dernier, en passant par les mini reproductions de véhicules (mini London Bus, mini Beetle…), les pokéballs, leur nouveau concept 24 en 1, etc…
Si vous avez des idées pour de futurs cadeaux, c'est le moment : partagez les dans les commentaires, et je remonterai une liste de vos propositions à LEGO. On ne sait jamais, certains souhaits seront peut-être exaucés un jour. Et n'hésitez pas si vous avez des idées originales !
Un peu plus de détail ci-dessous : en gros, éviter des licences qui ne sont pas encore exploitées par LEGO. Et, comme d'habitude, pas de politique, religion, armes, sexe, drogue, violence, etc…
Rules

Ideas consisting of or containing copies of any existing third party work or creation or infringements of any third party intellectual property right will not be eligible for this activity

However, ideas to themes within the current LEGO portfolio are welcome: LEGO Star Wars, LEGO DC Comics™ Super Heroes including original characters and LEGO created IPs, such as LEGO Friends, LEGO NEXO Knights, and LEGO Elves, are allowed.
Ideas consisting of or containing trademarked terms, or names that otherwise constitute infringements of any third party intellectual property right will not be eligible for this activity.
Ideas should be compatible with the current LEGO system of play. This means that all ideas have to be possible to execute with the current portfolio of bricks & LEGO Minifigures.

Please remember to consider the LEGO brand values. This means no:

Politics and political symbols, campaigns, or movements
Religious references including symbols, buildings, or people
Sex, nudity, drugs, alcohol or smoking
Swearing or profanity
Death, killing, blood, terrorism, horror, or torture
First-person shooter video games
Warfare or war vehicles in any modern or present-day situation, or national war memorials
Large or human-scale weapons or weapon replicas of any kind, including swords, knives, guns, sci-fi or fantasy blasters, etc.
Racism, bullying, or cruelty to real life animals

Ideas containing defamatory or degrading elements will not be eligible for this activity.
[Appel à idées] Des idées pour les prochains cadeaux promotionnels LEGO ?