Nouveau projet à atteindre les 10000 votes sur LEGO Ideas, et encore un avion après le projet Red Arrows Hawk de la première phase 2017. Mais il s'agit cette fois d'un avion américain, et plus précisément du McDonnell Douglas F-15 utilisé par la NASA (NF-15B Research Aircraft, maintenant à la retraite), avion test adapté du classique avion de chasse F-15 Eagle de l'US Air Force.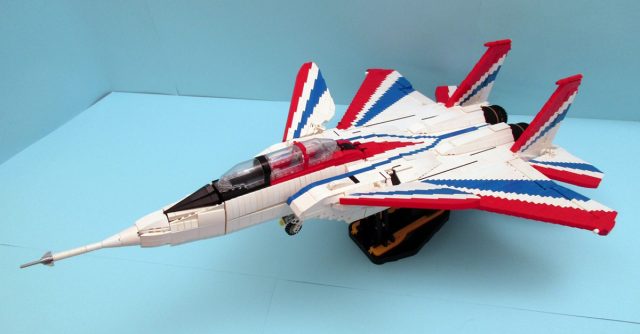 A cette échelle, Mammalucco propose évidemment énormément de détails. Le projet contient 5000 pièces, et je suis encore une fois étonné de le voir aboutir puisque les conditions générales de la plateforme précisent bien explicitement « Please keep your projects to a maximum of 3,000 pieces« . Mais bon, ça se saurait si les règles de la plateforme étaient claires et respectées. Plus de 70 photos sur la page du projet pour ceux qui veulent en voir plus.
Il rejoint les projets Gilmore Girls Luke's Diner et Wonders of Peru dans cette seconde vague de sélection 2017.
LEGO Ideas : 10000 votes pour le projet NF-15B Research Aircraft