Après les deux personnages Marvel hier (Spider-Man et Venom), LEGO a logiquement dévoilé un duo DC Comics pour ce second set exclusif du SDCC 2017 : les BrickHeadz Supergirl & Martian Manhunter (réf LEGO 41496, avec 234 pièces au compteur).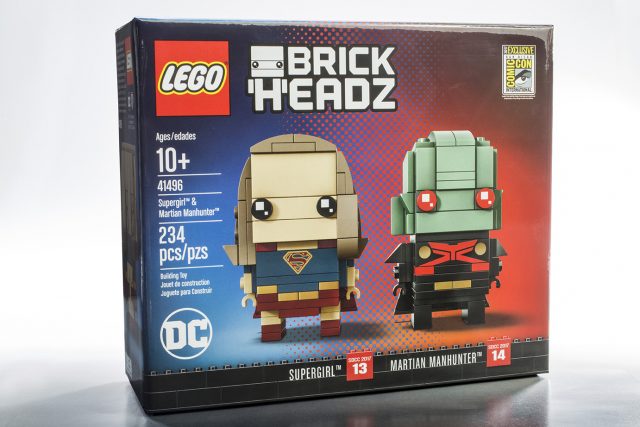 Ces deux personnages viennent de la série Supergirl qui vient de terminer sa seconde saison sur la chaîne CW aux USA. Et confirment donc la tendance : comme LEGO en a pris l'habitude dernièrement, les personnages DC Comics sont souvent tirés du Arrowverse (l'univers de séries TV constitué d'Arrow, The Flash, Legends of Tomorrow et Supergirl), comme par exemple la très belle minifig de The Atom / Ray Palmer l'an dernier.
Ils seront mis en vente (40$) les 21 et 23 juillet prochains sur le stand LEGO du San Diego Comic Con, puis la moitié (et je suis probablement du genre optimiste) se retrouvera immédiatement en vente sur eBay entre 200 et 300$… A noter si vous vous sentez en veine : LEGO a confirmé qu'il en offrirait quelques exemplaires sur son compte Twitter pendant le SDCC : il suffira comme l'an dernier de retweeter les messages correspondant à ces concours en espérant être l'heureux élu tiré au sort.
Prochaine étape : la découverte des minifigs exclusives du Comic Con !
SDCC 2017 : le second set exclusif sera le duo LEGO BrickHeadz 41496 Supergirl & Martian Manhunter