Petite surprise : il y a finalement bien un polybag offert en juin (en dehors de l'offre DUPLO) en LEGO Store et sur le Shop@Home. Le polybag LEGO 30546 Krypto saves the day est offert pour tout achat de la gamme DC Super Hero Girls jusqu'au 2 juillet prochain.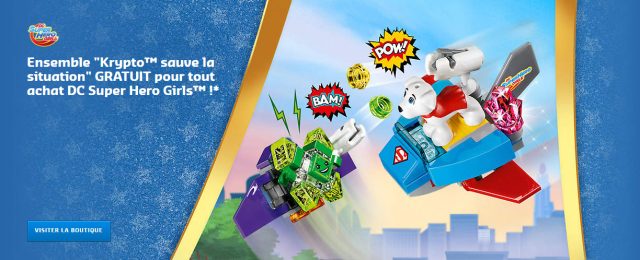 Pour ceux qui ne sont pas familiers avec cet univers, Krypto le superchien (Krypto the Superdog) est le chien de Superman. Et forcément, il a des super pouvoirs : "Bien qu'il ait l'apparence d'un chien terrien normal, Krypto a les mêmes super-pouvoirs que son maître, et pense comme un humain" (merci Wikipédia).
Il n'y a malheureusement pas de porte-clés DC Super Hero Girls pour l'acquérir à moindre frais, mais les premiers prix dans la gamme commencent à 14,99€. par contre je ne sais pas pour vous, mais je n'arrive toujours pas à adhérer au format minidoll. Je pensais qu'à l'usure, je m'y ferais, mais c'est encore loin d'être le cas !
Offre surprise : le polybag DC Super Hero Girls LEGO 30546 Krypto saves the day