Les fans de rétrogaming vont être aux anges : le projet SEGA Classic Arcade Machines vient d'atteindre les 10000 votes sur la plateforme LEGO Ideas, et gagne donc le droit de continuer à espérer devenir un jour un set officiel.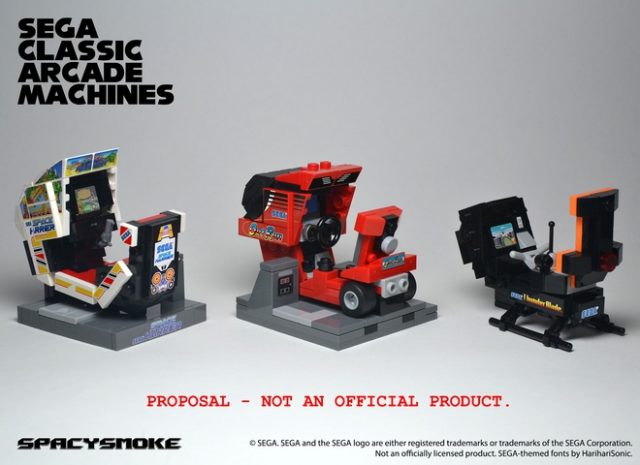 SpacySmoke a proposé trois bornes d'arcade cultes : Space Harrier (1985), Out Run (1986) et Thunder Blade (1987). Et il propose trois minifigs dont Yu Suzuki, Game Designer de SEGA qui a été le précurseur de nombreux nouveaux styles de jeux : course de moto (Hang-On), combat 3D (Virtua Fighter), course avec vue externe (Out Run), course 3D (Virtua Racing), avion 3D (After Burner)… Bref une légende dans le milieu.
Voilà de quoi apporter un peu de compagnie au Level Pack LEGO Dimensions 71235 Midway Arcade avec son rétro gamer et sa mini borne d'arcade.
C'est donc le second projet sélectionné pour cette première phase de review 2017 : il rejoint pour l'instant le projet The Bluesmobile inspiré du film The Blues Brothers.
LEGO Ideas : 10000 votes pour le projet SEGA Classic Arcade Machines