C'est parti : 10 des 12 personnages de la première série LEGO BrickHeadz sont désormais disponibles en avant première LEGO VIP sur le Shop@Home et en LEGO Store, au tarif unique de 9,99€, avant une disponibilité générale au 1er mars 2017.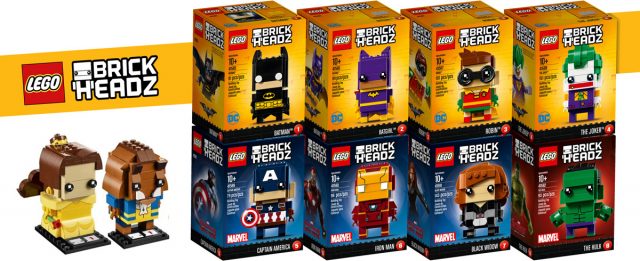 Au programme, quatre BrickHeadz The LEGO Batman Movie (review à cette adresse), quatre super héros Marvel (review demain si tout va bien), et la Belle et la Bête :
Et le polybag The LEGO Batman Movie 30607 Disco Batman & Tears of Batman est toujours offert dès 55€ d'achats, seuil qui est donc atteint dès l'achat de six BrickHeadz.
Vous n'êtes pas encore membre du programme VIP ? C'est gratuit, facile et vous pourrez ranger dans votre portefeuille une belle carte de fidélité LEGO VIP : l'inscription se passe à cette adresse.
LEGO BrickHeadz : disponibles en avant première VIP