Après Porsche, c'est au tour de BMW d'être mis en avant dans la gamme LEGO Technic et de présenter officiellement la moto du set LEGO Technic 42063 BMW R 1200 GS Adventure, composée de 603 pièces et annoncée pour le 1er janvier 2017 à un prix public conseillé de 49,99€.
Le modèle de 18 cm de haut, 33 cm de long et 10 cm de large réserve une surprise pour célébrer les 40 ans de la gamme LEGO Technic : une nouvelle pièce spécialement conçue pour l'occasion.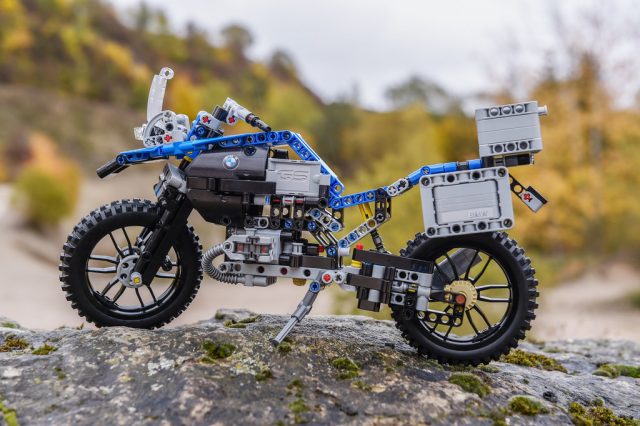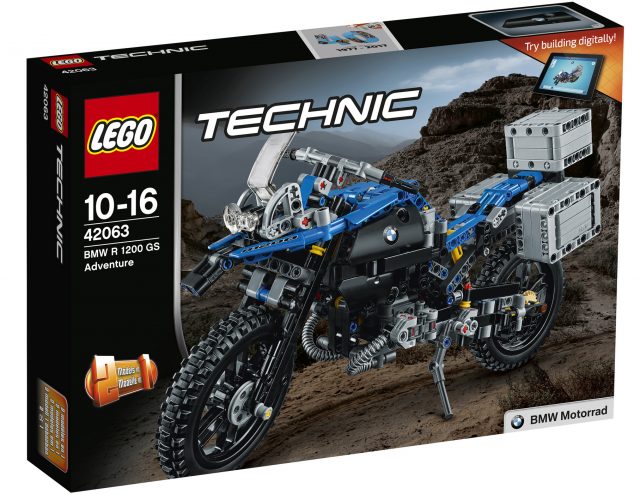 Un gros coup de zoom sur la boite nous montre vraisemblablement la fameuse pièce anniversaire ?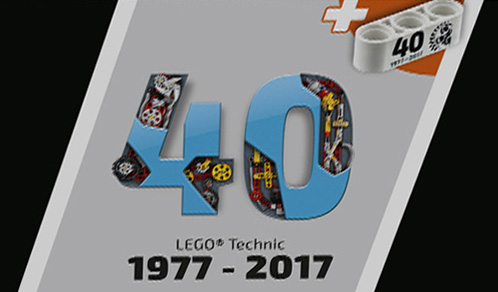 Le communiqué de presse de ce set LEGO 42063 :
A detailed model of the BMW R 1200 GS Adventure developed by BMW Motorrad and LEGO Technic goes on sale from 01 January 2017. The BMW Motorrad best-seller will now find its way into the homes of motorcycling enthusiasts of all ages. The model set – consisting of 603 parts – is the product of close collaboration between the LEGO Technic and BMW Motorrad design teams. Combining innovative design with the art of engineering, it is the first ever LEGO Technic model to be produced in cooperation with a motorcycle manufacturer.

"BMW Motorrad is very pleased to be able to share the enthusiasm for this bike with the LEGO Technic community. Two companies came together, both of them with a longstanding tradition to make emotional products for their customers", says Heiner Faust, Head of Sales and Marketing of BMW Motorrad.

Authentic reproduction featuring numerous of details

The LEGO Technic BMW R 1200 GS Adventure is designed to be as faithful as possible. The characteristic lines of the motorcycle – the so-called flyline – moving handlebars and even an adjustable windshield recreate the original in miniature along with numerous technical details. Enthusiasts will recognise the authentic BMW Telelever front wheel suspension and the shaft drive as well as the moving BMW Motorrad 2-cylinder boxer engine, which are set in motion as soon as the motorcycle is moved. Even the black spoke wheels with studded tyres resemble those of the model's real counterpart. Thanks to the many details, the set is not only realistic but also fun and challenging to build.

"The proportions of the R 1200 GS Adventure have been recreated outstandingly well in the LEGO Technic model. We are excited to see how LEGO Design has reproduced so many visual and technical details of the R 1200 GS Adventure. The close and creative cooperation between the two design teams was particularly impressive – it went beyond a conventional licensing agreement", says Alexander Buckan, Head of BMW Motorrad Vehicle Design.

The model is 18 cm high, 33 cm long and 10 cm wide, and an interactive LEGO app is available for the set that features 3D assembly instructions. The LEGO Technic BMW R 1200 GS Adventure also has a surprise in store for collectors: the LEGO Group celebrates 40 years of LEGO Technic next year and to mark the occasion, the kit will contain a specially designed LEGO Technic piece.
LEGO Technic 42063 BMW R 1200 R Adventure : l'annonce officielle