Pour accompagner la sortie de la Death Star 75159, le nouveau set Ultimate Collector's Series de la gamme LEGO Star Wars, deux opérations promotionnelles sont à signaler chez LEGO :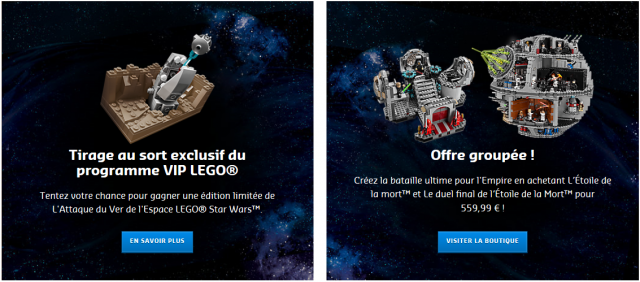 Tout d'abord un Kit ultime de l'Étoile de la Mort (référence 5005217) qui contient les sets 75159 Death Star (499,99€) et 75093 Death Star Final Duel (99,99€) pour un prix de 559,99€ soit une économie de 40€ (39,99€ pour être exact).
Ensuite, tout achat d'une Death Star vous inscrira automatiquement à un tirage au sort pour tenter de gagner l'un des 120 exemplaires mis en jeu du set exclusif de l'Attaque du Ver de l'Espace (Escape the Space Slug) qui avait été offert lors d'un événement spécial pendant la dernière opération May the 4th.
Retrouvez toutes les informations à cette adresse, et n'oubliez pas qu'en ce moment ce sont les derniers jours pour bénéficier de 10€ offerts dès 40€ d'achat avec le code FR10.
De mon côté, je vais plutôt craquer sur le nouveau Train de Noel 10254 !
LEGO 75159 Death Star : Kit ultime et tirage au sort exclusif