Warner Bros a annoncé aujourd'hui de nouveaux packs pour le jeu LEGO Dimensions et a mis en ligne un nouveau teaser pour le jeu, avec en guest star Christopher Lloyd alias Doc Brown dans la trilogie Retour vers le Futur : il y découvre la minifig du personnage qu'il incarne à l'écran 🙂 (et a pris un bon coup de vieux depuis les films !)
A ce sujet, la minifig de Doc Brown est presque identique à celle qui était fournie avec le set 21103 The DeLorean Time Machine à un détail près : il possède de nouveaux cheveux, plus fidèles au film. Dommage de ne pas les avoir sortis dès le set LEGO Ideas !
Voici les nouveaux packs :
Team pack DC Comics The Joker and Harley Quinn (71229)
Fun pack Back to the Future Doc Brown (71230)
Fun pack Ninjago Sensei Wu (71234)
Fun pack DC Comics Superman (71236)
Fun pack DC Comics Aquaman (71237)
Fun pack DC Ninjago Lloyd (71239)
Fun pack DC Comics Bane (71240)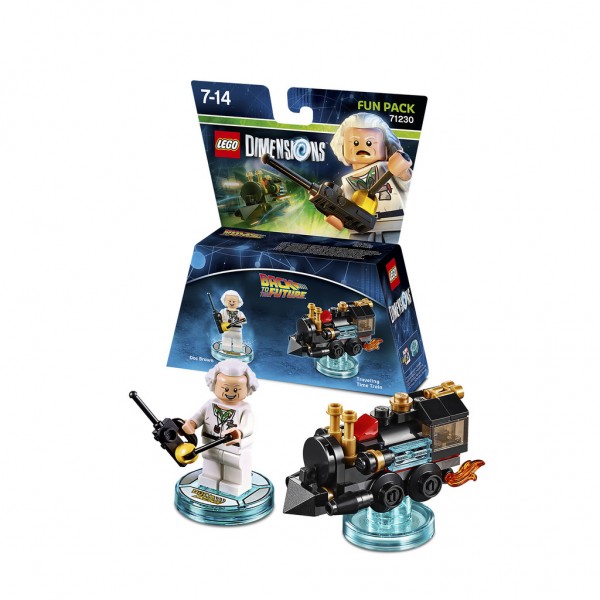 Vu que seul le socle est utile pour jouer à LEGO Dimensions (d'ailleurs, on pourra importer jusqu'à 7 personnages à la fois dans le jeu, voir le communiqué de presse ci-dessous), quelque chose me dit qu'il va y avoir une intense activité d'achat/revente de ces packs : entre ceux qui vont les acheter pour les figurines et revendre les socles, et ceux qui au contraire revendront leurs figurines pour jouer à moindre coût, les morceaux de packs risquent de bientôt pulluler sur les sites de revente !
Voici le communiqué de presse officiel (en anglais) :
"Great Scott!" LEGO® DimensionsTM Adds More Iconic Characters from DC Comics, Back to the FutureTM and LEGO® NinjagoTM with New Expansion Packs!

In a new video featuring actor Christopher Lloyd reprising his famous role as Doc Brown from the Back to the Future films, Warner Bros. Interactive Entertainment revealed today gameplay featuring even more beloved characters coming to LEGO Dimensions, the upcoming entertainment experience that merges physical LEGO brick building with interactive console gameplay. In addition to LEGO Batman, LEGO Gandalf and Wyldstyle, the three minifigure heroes used to start the experience, LEGO Dimensions will allow gamers to customize their experience post-launch and throughout the first half of 2016 with additional packs from the previously announced brands, including: DC Comics Team Pack featuring LEGO Joker and LEGO Harley Quinn minifigures, three additional DC Comics Fun Packs featuring LEGO Superman, LEGO Aquaman and LEGO Bane minifigures, Back to the Future Fun Pack with LEGO Doc Brown minifigure and two additional LEGO Ninjago Fun Packs with Sensei Wu and Lloyd minifigures.

These highly collectible Team Packs and Fun Packs will provide new buildable characters, vehicles, tools and gadgets, as well as special in-game abilities. All expansion packs provide gamers the opportunity to use everything interchangeably, anywhere throughout the game, in any world with any character – there are no limitations.

Players can bring up to seven characters, vehicles and weapons into the LEGO Dimensions game all at once by placing them on the LEGO Toy Pad to create extreme gameplay cross-overs, such as LEGO Superman piloting the LEGO DeLorean Time Machine through Hill Valley or LEGO Doc Brown fighting alongside LEGO Bane in New Ninjago City.

Future expansion pack purchases will continue to work with the LEGO Dimensions Starter Pack, even in the fall of next year. No compatibility chart necessary.

Additional well-known brands and expansion packs joining the adventure for 2015 and 2016 will be announced in the coming months.

You can view the new "Great Scott" Back to the future LEGO Dimensions trailer on the WB Games UK YouTube channel http://youtu.be/aovvbFBdJz4

Launching 29th September 2015, LEGO Dimensions, will be available for Xbox One, the all-in one games and entertainment system from Microsoft and the Xbox 360 games and entertainment system from Microsoft, PlayStation®4 and PlayStation®3 computer entertainment systems and Wii U™ system from Nintendo.
LEGO Dimensions : nouveau trailer et nouveaux packs !