Coup d'œil rapide aujourd'hui sur le polybag LEGO 30387 Bob Minion with Robot Arms (75 pièces), le cadeau du moment chez LEGO où il est offert dès 40€ d'achat dans la gamme LEGO Minions. Pour rappel, la sortie du film d'animation Minions : The Rise of Gru a finalement été décalée à juillet 2022, même si LEGO a fini par sortir les différents sets basés dessus.
Un contenu plutôt amusant pour ce type de polybag, avec deux grands bras articulés et plusieurs armes et accessoires, il y a de quoi jouer. La base fournie permet au minion de ne pas tomber lorsqu'il est équipé de ces longs bras. Et la bonne nouvelle, c'est que LEGO livre aussi deux bras normaux pour Bob : la figurine est identique à celle du set 75547 Minion Pilot in Training (34,99€).
Si vous voulez l'ajouter à votre collection, rendez-vous sur le Shop officiel LEGO.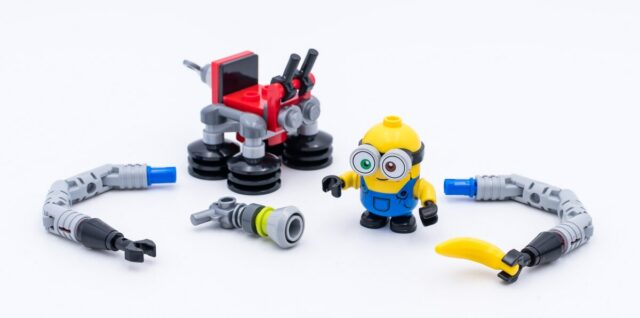 Review LEGO 30387 Bob Minion with Robot Arms