Le nouveau set LEGO BrickHeadz 40490 Ninjago 10th Anniversary aperçu dans les Store Calendars US et canadien inaugure une nouvelle mécanique : il sera en vente pour 10$ US, uniquement en LEGO Store, sous réserve d'avoir déjà dépensé au moins 85$ en produits de la gamme Ninjago (les prix sur le visuel ci-dessous sont les prix canadiens).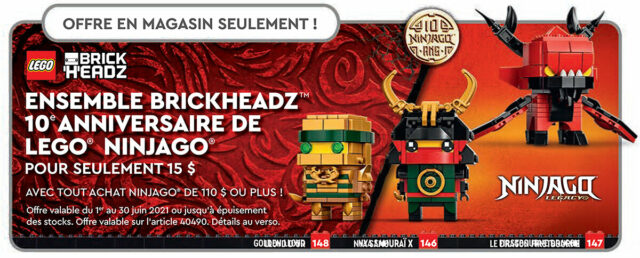 LEGO apporte aujourd'hui quelques précisions sur sa disponibilité : ce set anniversaire avec Golden Lloyd, Nya Samurai X et Firstbourne Dragon sera dans un premier temps uniquement disponible sous forme de PWP ("purchase with purchase") mais le stock restant sera ensuite disponible à l'achat sans condition à partir du 1er juillet, comme un BrickHeadz normal, probablement au prix de 24,99€.
Reste à espérer, pour les collectionneurs de la gamme LEGO BrickHeadz et les fans de Ninjago, que LEGO a prévu suffisamment de stock pour qu'il soit possible d'ajouter tranquillement ce trio à sa collection cet été.
LEGO confirme aussi au passage que le set ne sera pas une exclusivité US / Canada. Plus que quelques heures à attendre pour confirmer si l'offre vue de l'autre côté de l'Atlantique sera déclinée à l'identique en Europe.
The 40490 set will only be available as a promo during the month of June. Then remaining stock will be opened up for purchase at full price after July 1st.
Nouveauté LEGO BrickHeadz 40490 Ninjago 10th Anniversary : comment l'obtenir