Le gagnant du concours LEGO Ideas "Out of this world" autour du thème de l'Espace est maintenant connu : c'est le projet The Adventures of the USS Cardboard par Bulldoozer qui gagne et qui deviendra prochainement un cadeau offert par LEGO (GWP), comme l'ont déjà été les mini-sets LEGO Ideas 40335 Space Rocket Ride et LEGO Ideas 40448 Vintage Car ces dernières années.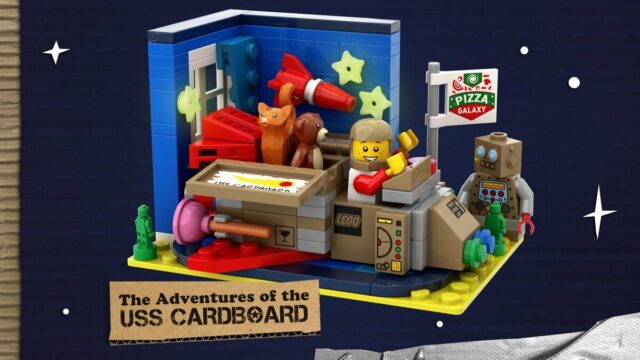 L'auteur de ce projet est en fait Ivan Guerrero, le fan designer du set 21324 123 Sesame Street.
Le projet va maintenant être retravaillé par les designers LEGO. Il faudra être patient, les précédents cadeaux basés sur des concours LEGO Ideas ont généralement mis environ un an entre l'annonce des résultats et l'opération promotionnelle : ça ne sera donc vraisemblablement pas pour cette année. A noter qu'il y a aussi toujours dans les tuyaux le joli petit voilier qui avait gagné un concours LEGO Ideas l'été dernier, et qui sera donc probablement offert autour de cet été.
Vous pouvez retrouver le classement des 15 finalistes sur le billet du blog LEGO Ideas.
Prochainement offert chez LEGO : The Adventures of the USS Cardboard, le gagnant du concours LEGO Ideas Space "Out of this World"