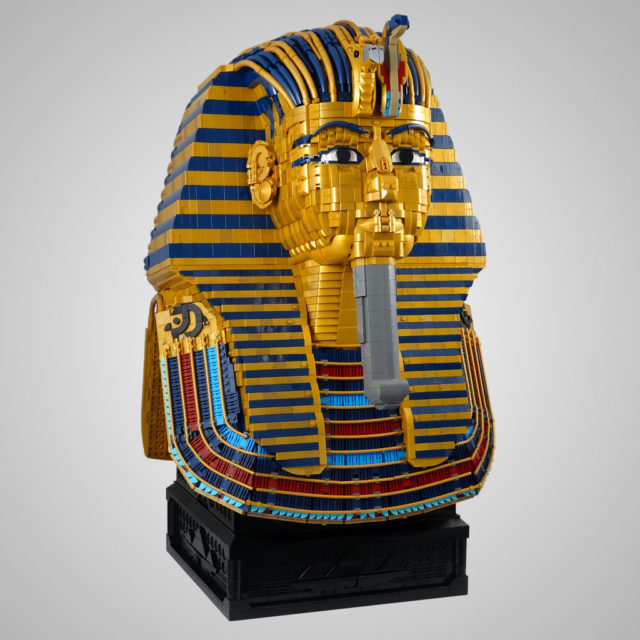 Masque funéraire de Toutânkhamon, taille réelle, 54 cm de haut (sans compter le stand), 39cm de large et 49 cm de profondeur. Environ 16 000 pièces ! | par Koen Zwanenburg
Je vous mets sa description qui est intéressante :
Apart from the LEGO hobby I have another interest which is history. Especially old civilizations intrigue me like Ancient Egypt. The Mask of Tutankhamun is one of the best-known works of art in the world and has always fascinated me. For several years now I have been thinking about building a LEGO version. And finally in November 2019 I decided to give it a go. I doubted a bit about the scale, but ultimately decided to build a life-size LEGO copy knowing that it would take thousands of golden parts… which of course I didn't have. But I just had to do it and it turned out to be one of the coolest projects I ever worked on!

The LEGO version has the same dimensions as the real mask. It's 54cm tall (the stand excluded), about 39cm wide and 49cm deep. I don't know precisely the number of parts I used to build this, but I estimate it's about 16.000 parts making it the largest single object I build so far. I first designed the eyes, nose and mouth and from there I went from top to bottom ending with the black stand that supports the mask. The black stand is subtly decorated with Egyptian symbols like the Pyramids, Scarabs and wings. Inside the black stand there is a Technic frame making sure the mask is tilted backwards by 10 degrees. It also houses a pair of hidden handles to lift the whole build easily (although it's quite heavy). Some difficult sections were the necklace (which includes a train track), the back of the mask (made of many dinosaur tails) and the nose and lips (made with Bionicle and Hero Factory parts). Obviously I had to make a couple of small adaptations along the way to make it work in LEGO parts (like the number of blue stripes). Nevertheless, I am extremely happy with the result!
Toutânkhamon : un masque funéraire doré de 16.000 pièces, taille réelle !