Si vous voulez voir plus en détail le set The LEGO Movie 2 LEGO 70840 Welcome to Apocalypseburg et en apprendre davantage sur sa conception, voici la traditionnelle vidéo des designers avec Justin Ramsden, Mike Patton et Ruth Kelly.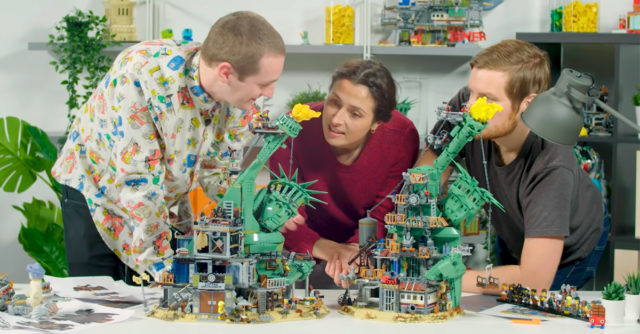 Vous y apprendrez notamment qu'ils ont conçu environ 30 à 40 versions intermédiaires avant d'en arriver au set définitif (marrant d'ailleurs de voir ci-dessus l'une de ces versions), et aurez un aperçu de la démarche pour créer de nouveaux moules comme par exemple les cheveux de Lucy / Wyldstyle. Et quelques mini extraits du film permettent de voir à quel point le set n'est qu'une réinterprétation à une échelle raisonnable d'un délire monstrueusement énorme, exactement comme ce que LEGO avait fait pour le set 70620 Ninjago City.
Au passage, l'avant-première VIP est terminée depuis quelques jours déjà et ce set LEGO 70840 Welcome to Apocalypseburg est donc désormais disponible pour tout le monde sur le Shop LEGO et en LEGO Store, VIP ou non. Bienvenue à Apocalypseville !
LEGO 70840 Welcome to Apocalypseburg : la vidéo des designers