Second Mighty Micros DC Comics 2018 : la référence LEGO 76093 Nightwing vs The Joker. Et, en fait, assez étrangement, c'est la première apparition seulement du méchant culte parmi les méchants cultes de l'univers DC Comics : le Joker. Et même pas face à Batman, mais face à Nightwing.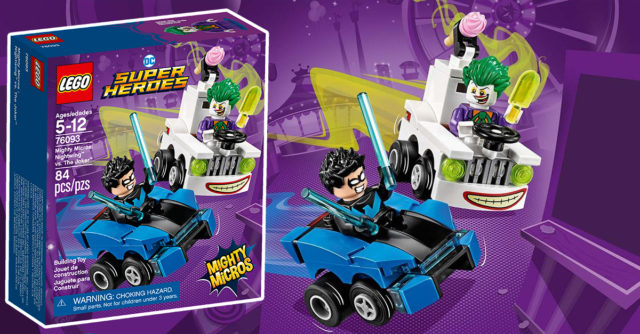 Instant culture du jour (j'aime bien découvrir ce genre de choses en préparant mes reviews) : si généralement le nom Nightwing fait souvent penser à Batman, en fait le titre et le concept viennent du côté de… Superman ! Initialement, ce sont Superman et Jimmy Olsen qui se sont inspirés de Batman et Robin pour devenir Nightwing et Flamebird lorsqu'ils devaient protéger Kandor, sur Krypton (plus d'infos sur tout ça sur Wikipedia).
Ah, et pour info, Nightwing a été élu "Personnage Masculin le plus Sexy dans les Comics" par ComicsAlliance en 2013. Avec ce sourire, on comprend tout de suite.
La bouche du Joker est un peu trop excentrée, j'ai l'impression que LEGO exagère de plus en plus le côté cartoon d'une année sur l'autre. Les tampographies des torses sont archi simples, aucun relief, aucune ombre, toujours ce style très épuré propre à la gamme.
Si la voiture de Nightwing n'a rien de particulier (c'est juste… une voiture), le Joker a hérité d'un camion de glace, version miniature du Icecream truck qui affrontait le (aujourd'hui très recherché) Tumbler du set LEGO 7888. Tout simple, mais marrant.
Et vu de l'arrière :
Deux mini personnages rigolos et une mention spéciale pour le camion du Joker, beaucoup plus original que la voiture de Nightwing !
Ce set LEGO 76092 DC Comics Mighty Micros Nightwing vs The Joker est disponible sur le Shop LEGO ou sur Amazon. Merci à LEGO pour la mise à disposition du set pour cette review.
REVIEW LEGO 76093 DC Comics Mighty Micros : Nightwing vs The Joker