Côté DC Comics Super Heroes, les nouveautés LEGO de l'été 2018 mettront en avant Batman avec notamment les deux sets suivants dont Amazon a mis en ligne les visuels :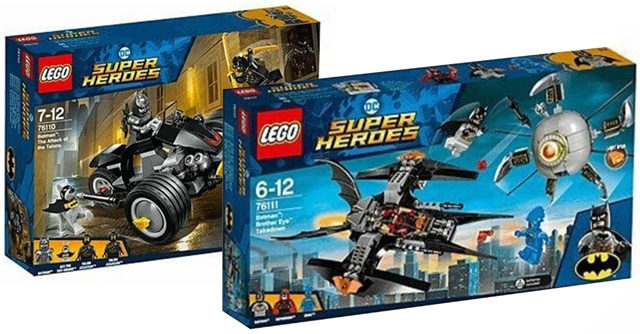 D'abord le set LEGO 76110 Batman : The Attack of the Talons (24,99€) tiré du cycle La Nuit des Hiboux. Avec un Batcycle à trois roues (qui a dit Bat-tricycle?), Batou dans son armure dans le même style que celle de Batman v Superman, deux assassins (les fameux Talons en VO ou Ergots en VF) et… un Bat-dog : Ace the Bat-Hound, équivalent côté Batman du Krypto de Superman.
A noter toutes les nouvelles pièces en forme de logo Batman. Décidément LEGO se lâche sur la création de nouveaux moules cette année…
De l'autre côté le set LEGO 76111 Batman : Brother Eye Takedown (34,99€) avec le satellite espion Brother Eye face à un nouveau Batwing. Du côté des minifigs, Batman et Batwoman affronteront un OMAC (One Man Army Corps, un être aussi puissant qu'une armée entière).
Il y aura aussi la Batmobile télécommandée LEGO 76112 App-Controlled Batmobile qui a été dévoilée à la Nurember Toy Fair mais où les photos étaient interdites.
Nouveautés LEGO DC Comics Super Heroes été 2018 : premiers visuels officiels