Dans le cadre de son opération annuelle "Bricktober", Toys R Us avait commercialisé en 2016 quatre packs de minifigs "exclusifs" (et plutôt décevants vu qu'ils avaient simplement mélangé des parties de corps existantes qui n'allaient pas vraiment toujours ensemble). L'enseigne recommence cette année avec un tout autre niveau : quatre superbes costumes de Batman tirés du délirant The LEGO Batman Movie. Dont le costume de lapin bleu clair !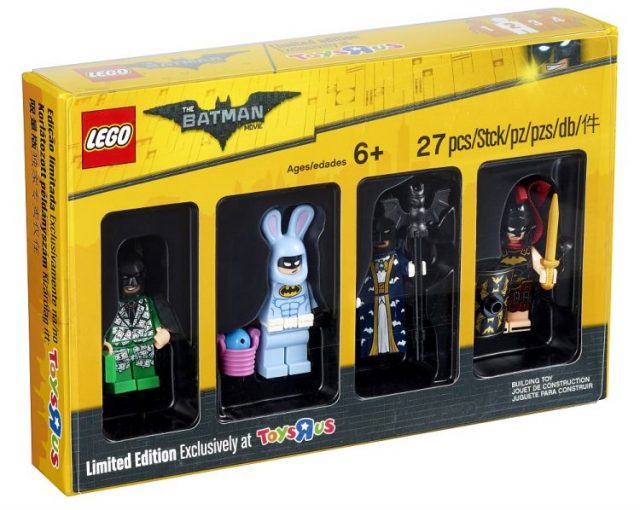 Le packaging indique sur le dessus qu'il s'agit du pack 2 sur 4 (référence 5004939). Quel sera le contenu des autres ? LEGO Batman Movie aussi ? La rumeur évoquant une seconde série de 20 personnages The LEGO Batman Movie début 2018, je commence à me demander ce que LEGO va y mettre… A moins que ces minifigs Toys R Us se retrouvent également dans la série de figurines à collectionner, et que seul le packaging soit finalement exclusif ? Ça n'est pas impossible.
Tout juste référencé sur le site Toys R Us allemand au prix de 14,99€, nous pouvons espérer qu'il arrive aussi chez Toys R Us France comme c'était le cas l'an dernier avec les précédents packs. A suivre !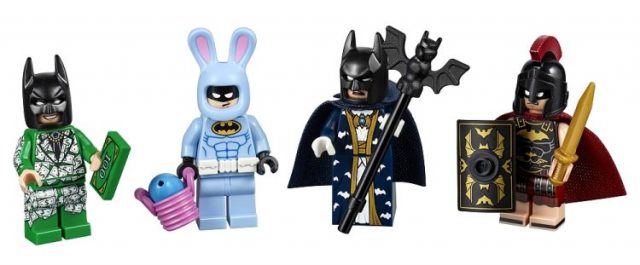 (vu sur Promobricks)
Bricktober Toys R Us : nouveau pack exclusif 5004939 The LEGO Batman Movie Minifigures Set