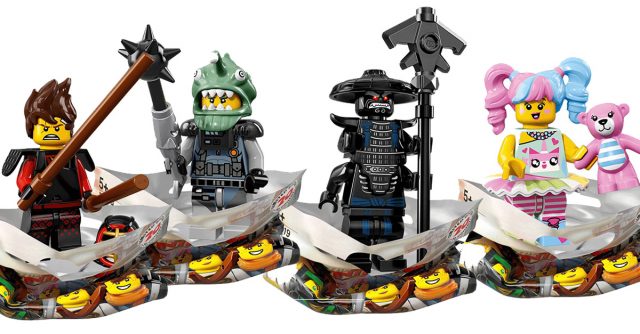 Après un premier aperçu hier, voici aujourd'hui l'intégralité des minifigs à collectionner The LEGO Ninjago Movie (LEGO 71019). Avec 20 personnages et un prix attendu à 3,99€ par sachet (comme les deux dernières séries), la série devrait être disponible à partir du 1er septembre prochain en LEGO Store et sur le Shop@Home comme les autres sets The LEGO Ninjago Movie. On peut voir que certains personnages ont droit à plusieurs apparitions dans la série !
Les 10 nouveaux personnages, ci-dessous dans l'ordre : N-POP Girl, Lloyd, Garmadon, Flashback Garmadon, Kai Kendo, GPL Tech, Shark Army Angler, Cole, Zane et Shark Army Octopus.
Encore (à mon goût) du bon et du moins bon, mais la collection complète ira quand même chez moi rejoindre la jonque et surtout le set 70620 Ninjago City, même si ce dernier est déjà bien chargé côté minifigs. Pour rappel les 10 premiers sachets dévoilés hier : Volcano Garmadon, Master Wu, Spinjitzu Training Nya, Lloyd Garmadon, Sushi Chef, Misako, Jay Walker, Shark Army Great White, Shark Army General #1, et Gong & Guitar Rocker.
La bonne nouvelle avec une série de 20 figurines, c'est qu'une boite de 60 devrait en offrir 3 séries complètes, sans aucun double, ce qui sera plus simple si vous êtes plusieurs à la vouloir. Mais pour ceux qui préfèrent tâter les sachets, vous aurez évidemment droit à notre traditionnel guide pour vous aider !
Minifigs à collectionner The LEGO Ninjago Movie (LEGO 71019) : les 20 personnages !