C'est donc bien le polybag LEGO 30611 R2-D2 brick-built qui sera offert en Europe à l'occasion de l'opération Star Wars May the 4th en LEGO Store et sur le Shop LEGO, dès 65€ d'achat dans la gamme LEGO Star Wars du 29 avril au 6 mai 2017.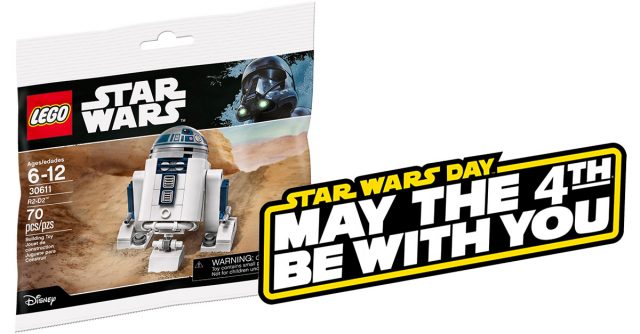 A côté de ça, le set LEGO 75144 Snowspeeder (219,99€) sera disponible en avant-première VIP dès le 29 avril histoire de coller avec le début de l'opération, avant sa disponibilité générale au 4 mai 2017.
Et c'est toujours mieux que de simples points VIP doublés : vous pourrez bénéficier pendant l'opération May the 4th de 10% de remise immédiate sur l'ensemble de la gamme LEGO Star Wars, et LEGO proposera en plus chaque jour un set à -40% (mais ça ne sera probablement pas un UCS !…).
Qu'en pensez-vous ? Attendiez-vous mieux pour les 40 ans de Star Wars ?
Star Wars May the 4th : polybag LEGO 30611 R2-D2 et 10% de remise sur la gamme