LEGO vient d'annoncer officiellement le nouveau concept LEGO Boost, sorte de Mindstorms Juniors, offrant aux plus jeunes (de 7 à 12 ans d'après LEGO) la possibilité de concevoir différents modèles robotisés et programmables.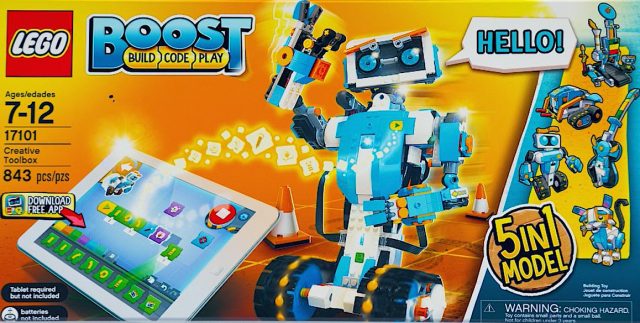 Le premier set de cette nouvelle gamme, annoncé pour août 2017 sous la référence LEGO 17101 Creative Toolbox (843 pièces, prix public US : 159,99$), sera un set de démarrage 5 en 1 avec des instructions permettant d'assembler cinq modèles différents : Vernie the Robot (un robot qui bouge et qui parle), le M.T.R.4 (Multi-Tooled Rover 4), la Guitar4000, Frankie the Cat et un AutoBuilder (capable d'assembler de petites constructions LEGO).
Le concept fonctionne grâce des Boost Bricks, et le set 17101 en contient trois : le Move Hub (qui gère la connexion Bluetooth, deux moteurs, un capteur d'inclinaison et une lumière), un moteur interactif et un capteur de distance et de couleur. Le tout est programmable via une application gratuite (LEGO® BOOST sur iOS et Android) et une interface de codage très simple, à base de blocs d'action à combiner horizontalement. Les différentes actions programmables sont visiblement faciles à organiser, avec en plus un code couleur spécifique pour aider les plus jeunes.
Le plus simple reste de le découvrir via les vidéos officielles de présentation, ou directement sur le mini-site dédié accessible en français à cette adresse.
Tout plein d'informations également dans le communiqué de presse de LEGO (en anglais).
LEGO Boost : programmation et robotique pour les plus jeunes