Voici l'annonce officielle du nouveau set LEGO Creator Expert Assembly Square (référence LEGO 10255), dernier né de la prestigieuse gamme Modular qui fêtera ses 10 ans en 2017.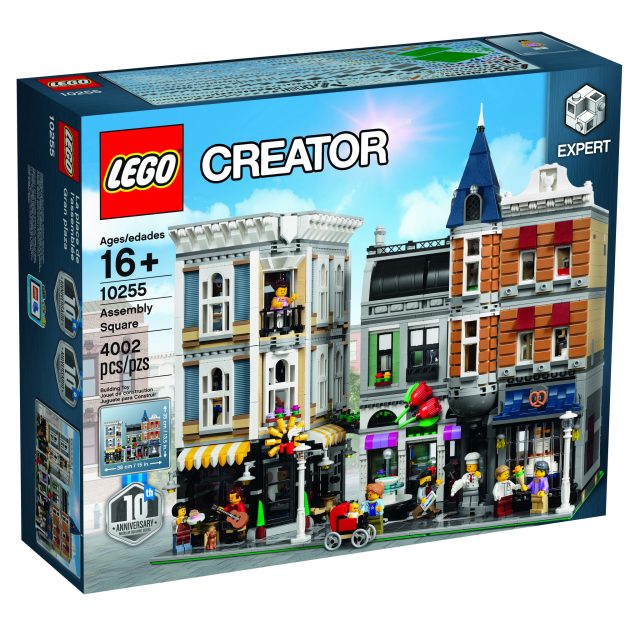 Sortie prévue début janvier 2017 en LEGO Store et sur le Shop@Home, au prix de 239,99€ en Allemagne 259,99€ en France pour 4002 pièces et 8 minifigs (plus un bébé). Pas de sortie anticipée pour les clients LEGO VIP.
Au programme au rez-de-chaussée : une boulangerie, un fleuriste et un café. Au premier étage : un magasin de musique, un studio photo et un dentiste. Et en haut, un studio de danse et un appartement avec accès au toit terrasse. Et une surface au sol 50% plus grande que les précédents Modulars, d'où la hausse de prix.
Jamie Berard, le designer du set, a annoncé l'avoir rempli de références aux précédents bâtiments Modular (les fameux "easter eggs") pour fêter les 10 ans de la gamme (retrouvez-en la liste complète en bas de l'article) !
Pas moins de 11 bâtiments sont en effet déjà sortis (10 pour ceux qui considèrent le Market Street comme un hors série, puisqu'il est adapté d'un design de fan) : 10182 Café Corner, 10190 Market Street, 10185 Green Grocer, 10197 Fire Brigade, 10211 Grand Emporium, 10218 Pet Shop, 10224 Town Hall, 10232 Palace Cinema, 10243 Parisian Restaurant, 10246 Detective's Office et 10251 Brick Bank. Le Pet Shop fait preuve d'une longévité extraordinaire en étant encore au catalogue, je ne serais pas étonné qu'il disparaisse (avec le Palace Cinema) d'ici l'arrivée de ce nouveau Modular.
LEGO 10255 Assembly Square
Ages 16+. 4,002 pieces.
US $279.99 – CA $329.99 – DE 239.99€ – UK £169.99 – DK 2099.00 DKK
*Euro pricing varies by country. Please visit shop.LEGO.com for regional pricing.

Celebrate ten years of Modular Building with the Assembly Square!

Take a trip to the amazing Assembly Square, developed to celebrate ten years of LEGO® Modular Buildings, featuring a wealth of unsurpassed, intricate details and hidden surprises. Easy-to-remove building sections provide access to the highly detailed interior, comprising a ground level with a bakery, florist's shop and café, a middle level with a music store, photo studio and dental office, and an upper-level dance studio and apartment with access to a rooftop terrace with barbecue. The exterior of the building features a detailed sidewalk with outdoor café furniture, fountain, streetlamps and a highly elaborate facade with beautifully detailed windows and doors, three buildable shop signs, spired tower and a decorative roofline. Collect and build an entire town with the LEGO Creator Expert Modular Building series 10243 Parisian Restaurant, 10246 Detective's Office and 10251 Brick Bank. Includes eight minifigures and a baby figure.
• Includes eight minifigures: a dentist, barista, baker, florist, music store assistant, dancer, photographer and a LEGO® fan, plus a baby figure.
• The three-level Assembly Square features an authentic, elaborate facade with detailed windows and doors, three buildable shop signs, spired tower, decorative roofline and a rooftop terrace, plus a detailed tiled sidewalk with a fountain, outdoor café furniture and two streetlamps. The highly detailed interior includes a bakery, florist's shop, café, music store, photo studio, dental office, apartment and a dance studio.
• Ground level features a bakery with counter, cash register, shelves, opening oven, wedding cake and assorted buildable pastries and treats; a florist's shop with counter, cash register, garden tools, flower arrangements, bouquets and a blue and yellow macaw parrot element; and a café with espresso machine, counter, bench seating and pie elements.
• Middle level features a music store with a buildable drum set, two guitars and saxophone element; photo studio with buildable classic camera and adjustable tripod; and a dental office with buildable reclining chair, waiting area, telephone and a sink.
• Upper level features a dance studio with buildable piano and reflective mirror element; an apartment with buildable foldout sofa bed, detailed kitchen, toilet, micro LEGO® train, modular buildings and Eiffel Tower, and access to a rooftop terrace with buildable barbecue, table and a neglected plant.
• Accessory elements include a ballerina skirt, Chihuahua, pretzel, ornamental chicken and candy. Also includes a buildable telephone, grill, baby carriage and buildable lamps.
• Remove the building sections to access the detailed interior.
• Adjust the camera tripod and take photos all around the square.
• Recline the dentist chair and reveal those pearly whites!
• Open the oven door to remove your freshly-baked pastries.
• Fold out the sofa bed and relax while you admire your modular buildings collection!
• Celebrate Modular Buildings with this awesome 10th anniversary LEGO® Creator Expert set!
• This set offers an age-appropriate build and play experience for ages 16+.
• New decorated elements include a dentist torso, dentist window and 2×3 tile with the 10182 Café Corner box front.
• Includes lots of curved and corner angle tiles, garage doors used as box windows and LEGO® Technic excavator scoops used as roofing elements.
• Collect and build an entire town with the LEGO® Creator Expert Modular Building series 10243 Parisian Restaurant, 10246 Detective's Office and 10251 Brick Bank.
• Measures over 13" (35cm) high, 14" (38cm) wide and 9" (25cm) deep.
La vidéo du designer :
Et comme on le découvre dans la vidéo, les MOCeurs seront ravis d'y trouver de nombreuses nouvelles pièces, notamment des tiles d'angle et une nouvelle brique 1×1 avec un stud sur deux faces consécutives…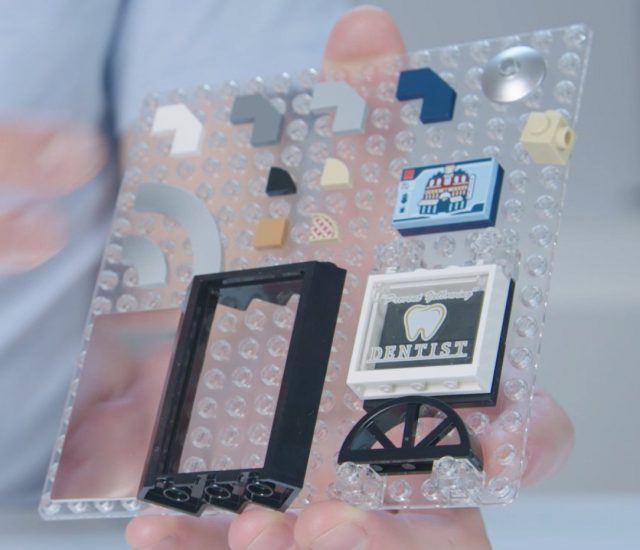 La liste des références aux précédents sets :
10255 Assembly Square References to Past Modular Buildings

10182 Café Corner
• Café on corner of plaza w/coffee mug sign
• Yellow and white striped awnings
• Micro version of CC on apartment shelf
• Printed tile to represent CC Box
• Corner door built using turntables
• Cherries in trash
• Green Baseplates

10190 Market Street
• Micro version of MS on apartment shelf
• Bakery is linked to croissant sign from MS

10185 Green Grocer
• Micro version of GG on apartment shelf
• Rooftop BBQ
• Sand Green color of mid-building
• Updated baby pram (now including baby!)

10197 Fire Brigade
• Rooftop door access
• Kitchen in apartment

10211 Grand Emporium
• Detailing around roof above Dance Studio
• Wedding cake to go with wedding outfits in GE Window

10218 Pet Shop
• Parrot in flower shop & Chihuahua
• Sand Blue color of Music/Dance Studios
• Windows for Music/Dance Studios shared with PS

10224 Town Hall
• Tower roof style shared with TH
• Wedding cake for married couple in TH
• Flower shop for married couple in TH

10232 Palace Cinema
• Center of pattern in front of Cafe shared with PC
• Vertical line wall texture from PC is used for interior of Music/Dance studios

10243 Parisian Restaurant
• Black roof of middle building in similar style to PR
• White Croissants in Bakery
• Fold out sofa similar to fold down bed
• Greenery on pergola between café and flower shop

10246 Detective's Office
• Mirror
• Candy/cookie source is Pastry Shop
• Nougat color of Dentist office

10251 Brick Bank
• Portrait of Bank Manager in photo studio
• Trans-Green and clear glass in Flower Shop
LEGO Creator Expert Assembly Square 10255 : l'annonce officielle