Si vous avez lu des reviews du nouveau (très joli) set LEGO Technic Porsche 911 GT3 RS (42056) comme par exemple celle d'Eurobricks, nombreux ont été ceux qui pointaient du doigt un problème assez inattendu au niveau de la boite de vitesse séquentielle : les vitesses ne passent pas dans le bon ordre (1-2-3-4) mais dans le désordre (1-3-2-4).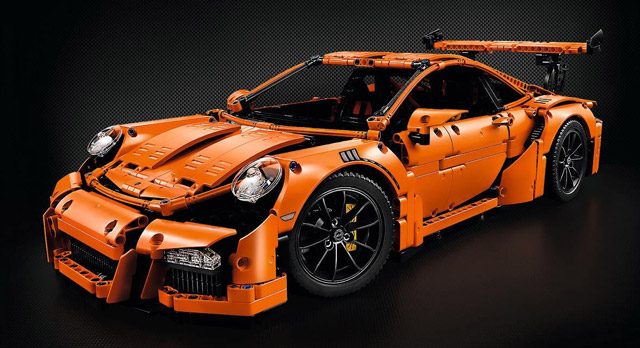 Problème d'inattention du service qualité LEGO ? Designer qui ne sait pas compter ? Coquille dans la notice de montage ? Que nenni ! LEGO vient de partager un communiqué officiel sur le problème (en anglais en bas de l'article pour ceux qui veulent le lire en détail) où ils expliquent que ce "problème" est en fait un choix délibéré de leur part car avec un séquencement dans l'ordre, le passage des rapports aurait sollicité trop d'engrenages en même temps et se fait "moins en douceur". Je n'ai pas encore construit la voiture donc je ne sais pas si cela change beaucoup de choses, mais je suis curieux d'avoir le retour des experts LEGO Technic sur le sujet !
LEGO explique donc qu'il est tout à fait possible de remettre les vitesses dans le bon ordre en intervertissant les étapes 267 et 269, mais qu'il laisse le client décider de son propre chef s'il souhaite apporter cette modification ou non…
Ce qui me fait le plus rire reste la conclusion de cette communication : LEGO s'estime "chanceux d'avoir des clients capables de se rendre compte de ce petit écart avec la réalité"… Euh… On parle juste de savoir compter jusqu'à 4 non ? 😉
Eurobricks et Techlug ont également remonté un problème de blocage aléatoire de la boite de vitesse, mais pas de communication (pour l'instant) de la part de LEGO sur ce sujet.
Thank you to all our dedicated fans for the comments regarding the GT3 RS by LEGO Technic.

It is correct that the gears in this model are not sequential as in the real Porsche PDK. This is however, a deliberate decision taken to ensure that we make the best possible LEGO version of this amazing car that both meets our design requirements and gives everyone a great building and product experience.

It was a considered decision taken during development that the gears running in the correct order meant that it did not result in a great experience when driving the car. Too many gears are engaged at the same time and smooth running with all those tolerances is just not possible.

If you switch the build in steps 267 and 269 the gears will run sequentially, and everyone who feels that this is the better solution should feel encouraged to do so.

LEGO Technic really is the ultimate open source design product and now that it is finally available, we look forward to seeing all the 'improved' models our fans create. After all, that is what LEGO building is all about.

We hope everyone will have a great building experience and feel a strong sense of pride from creating both our version and their very own LEGO Technic representation of a Porsche GT3 RS. We are very fortunate to have such skilled and dedicated fans that can spot this small deviation from reality and would like to thank everyone for sharing their ideas and expert knowledge.
(via TheBrickFan)
Porsche 911 GT3 RS (42056) : pas de problème selon LEGO