Suite à la mise en ligne de premiers visuels du set LEGO Creator Expert 10252 Volkswagen Beetle, LEGO a immédiatement (et très intelligemment) réagi en avançant l'annonce officielle du set avant la date initialement prévue.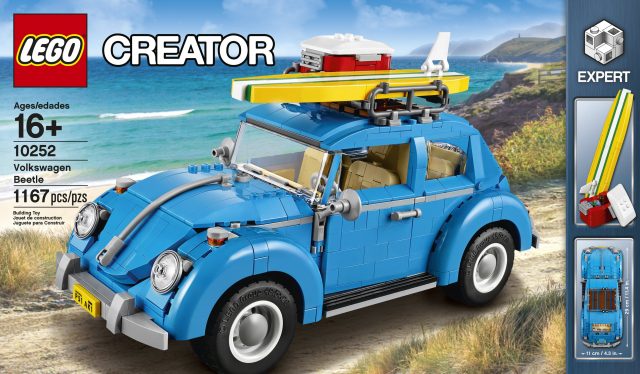 Voici donc le descriptif officiel de cette nouvelle Coccinelle de 1167 pièces qui sera disponible en avant première pour les membres du programme VIP dès le 14 juillet prochain en LEGO Store et sur le Shop@Home, avant une disponibilité pour tous au 1er août 2016.
Ce modèle rejoindra donc les autres véhicules de la gamme Creator Expert comme le camping-car Volkswagen T1 10220, la Mini Cooper 10242 et la Ferrari F40 10248.
Réussir à reproduire les courbes de cette voiture est un sacré challenge, et certains lui reprochent déjà un faux air de Citroën 2CV… Et vous, qu'en pensez-vous ?
10252 Volkswagen Beetle
Ages 16+. 1167 pieces.
US $99.99 – CA $129.99 – DE 89.99€ – UK £69.99 – DK 799.00 DKK
*Euro pricing varies by country. Please visit shop.LEGO.com for regional pricing.

Head for the beach with the VW Beetle!

Celebrate the iconic VW Beetle with this awesome LEGO® Creator Expert reproduction.

This detailed model comprises a number of special features and elements that help recreate the distinctive Beetle characteristics, including an azure-blue color scheme, curved fenders, flat windshield, VW logo, and an authentic 4-cylinder air-cooled engine and fuel tank.

The accessible interior features beige-colored, forward-tilting seats, dashboard and steering wheel, and the roof-mounted surfboard and a cooler box can be removed.

This model has been designed to provide a challenging and rewarding building experience with a touch of nostalgia.

1960s VW Beetle with surfer theme features an array of brick-built details including an azure-blue color scheme, curved fenders, white rims with distinctive hubcaps, round headlights, wing-mounted turn signals and opening hood, trunk and doors.

Use the included stickers to choose 1 of 4 license plates.
Remove the cooler box and surfboard from the roof rails.
Tilt the rear seat forward to access the storage space with fabric beach towel.
Lift the hood to access the spare tire and fuel tank.
Open the trunk to reveal the authentic, 4-cylinder air-cooled engine.
Open the doors or remove the roof section to access the detailed beige-colored interior with dashboard, steering wheel and tiltable front and back seats.
Special elements include a round tile with printed VW logo, arched fender elements and an updated windshield design.
VW Beetle including surfboard and cooler measures over 15cm high, 29cm long and 12cm wide.
Et la classique vidéo de présentation par le designer :
LEGO Creator Expert 10252 Volkswagen Beetle : l'annonce officielle