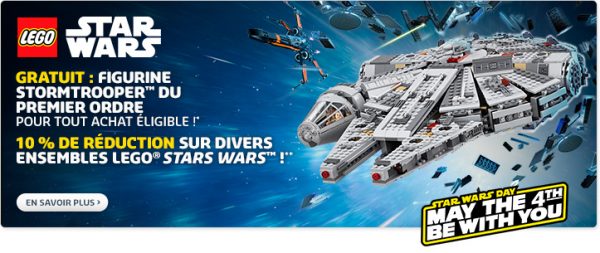 Comme chaque année, c'est reparti pour l'opération LEGO Star Wars May the 4th be with you. Au programme cette année, du 30 avril au 7 mai :
Pour en profiter, rendez-vous sur le Shop@Home ou en LEGO Store. Le polybag et l'affiche sont évidemment disponibles, comme d'habitude, dans la limite des stocks.
Au final, pas de points VIP doublés pendant l'opération comme les Américains mais une remise immédiate de 10% sur toute la gamme, c'est bien aussi ! Dommage simplement d'avoir pour polybag un Stormtrooper anonyme plutôt qu'un personnage inédit, il y a pourtant de quoi faire dans l'univers Star Wars… Qui auriez-vous aimé avoir en version minifig LEGO ?
LEGO Star Wars May the 4th be with you