Décidément, LEGO n'arrête pas de faire des annonces pour le jeu vidéo LEGO Dimensions !
Avec la publication d'une nouvelle vidéo mettant en avant les différentes possibilités d'utilisation des véhicules et des accessoires (avec à chaque fois un modèle principal et 2 modèles alternatifs avec des fonctionnalités différentes), Warner et TT Games ont confirmé officiellement les licences Ghostbusters et Midway Arcade. Pas encore de visuels, mais au rythme où ça va ils ne devraient pas trop tarder…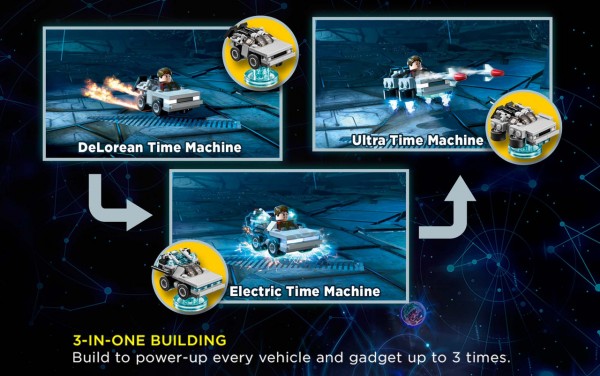 LEGO® Dimensions™ to Include The Simpsons™, Doctor Who, Ghostbusters™, Portal®, Jurassic World™, Midway Arcade, LEGO® Chima ™ and Scooby Doo! ™

Every LEGO Vehicle and Gadget Can Be Physically Built, Rebuilt, and Re-Rebuilt Into Different Objects for Massive Variety

Warner Bros. Interactive Entertainment confirmed today that LEGO Dimensions, the upcoming entertainment experience that merges physical brick building with interactive console gameplay, will include gameplay from The Simpsons™, Doctor Who,Ghostbusters™, Portal®, Jurassic World™, Midway Arcade, LEGO® Chima™ and Scooby Doo! ™ These fan favourite worlds, most of which have never before been in a LEGO videogame, will converge with the previously announced DC Comics, The Lord of the Rings™, The LEGO® Movie™, The Wizard of Oz™, LEGO® Ninjago™ and Back to the Future™ worlds in one thrilling adventure playable with the LEGO Dimensions Starter Pack.

For gamers that want to customise their LEGO Dimensions experience, Level Packs, Team Packs and Fun Packs based on these fourteen brands will provide new buildable characters, vehicles and gadgets, as well as compelling game content with mission-based levels and unique in-game abilities. All expansion packs will provide players the opportunity to use everything interchangeably, anywhere throughout the game.

It was also revealed in a new trailer that every LEGO vehicle and gadget can be physically built and then rebuilt twice for a total of three different objects that do entirely different things in the digital game for massive variety. Once players earn a building achievement, they will get in-game instructions that show them how to use the same physical LEGO bricks to rebuild vehicles and gadgets into different objects that provide all-new abilities.

For example, the LEGO vehicle bricks that come in the Starter Pack can be used to build the LEGO Batmobile that enables players to activate accelerator switches. The Batmobile can be rebuilt and transformed into the LEGO Batblaster which adds Sonar Smash, a sonar gun that has the ability to break LEGO sonar bricks. The vehicle can then be rebuilt again as the LEGO Sonic Batray which adds a special attack in the form of a missile barrage. Players can fuse an upgraded vehicle to the LEGO Toy Tag, enabling them to take it and any new abilities with them to a friend's game or wherever they'd like to play. Players can do this with every vehicle and every gadget from every pack.

Launching September 29th, 2015, LEGO Dimensions will be available for Xbox One, the all-in one games and entertainment system from Microsoft and the Xbox 360 games and entertainment system from Microsoft, PlayStation®4 and PlayStation®3 computer entertainment systems and Nintendo´s Wii™ U system.
Encore du nouveau pour LEGO Dimensions : les licences Ghosbusters et Midway Arcade !