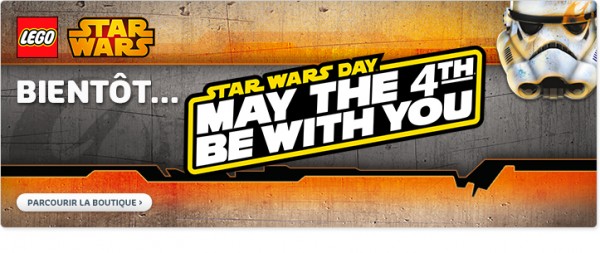 Comme tous les ans à la période du 4 mai, LEGO lance différentes offres promotionnelles autour des LEGO Star Wars avec l'opération May the 4th be with you. Voici les offres prévues cette année :
Un poster LEGO Star Wars gratuit pour tout achat de LEGO Star Wars
La minifig de l'Amiral Yularen offerte à partir de 55 € d'achat en produits LEGO Star Wars
Une réduction de 10% sur différents sets LEGO Star Wars (la liste n'a pas encore été communiquée)
Je suis un peu déçu par la remise de 10% (c'était 15% l'an dernier…) mais les posters sont plutôt sympathiques : il s'agit des affiches des 6 films Star Wars en version LEGO (taille approximative 40cm x 60cm). J'espère simplement (sans trop y croire) qu'ils seront roulés et non pliés, et surtout qu'il sera possible de choisir celui qui nous intéresse (sans doute pas sur le Shop@Home, mais peut-être en LEGO Store ?).
LEGO May the 4th be with you